Son Adam brought Grandkidlets Graham and Elliot over this evening to give their mother a few hours of piece and quiet.
That left me scrambling for something to post this morning. I came up with a long-forgotten (and poorly composed) shot of the front of Kent Library before a wraparound covered the names of seventeen writers chosen by English professor Dr. Harold Grauel and Dr. W.W. Parker, then president of the university.
Fred Lynch's February 22, 2010, blog lists the names as "Walt Whitman, Mark Twain, William Shakespeare, John Milton, Ralph Waldo Emerson, Cardinal John Henry Newman, Virgil, Geoffrey Chaucer, Thomas Carlyle, John Ruskin, Leo Nikolayevich Tolstoi, Henry David Thoreau, Edgar Allen Poe, Eugene Field, Victor Hugo, Homer, Johann Wolfgang von Goethe.
Kent Library in 2010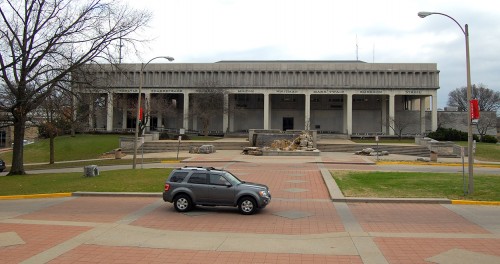 Here's what the library looked like in 2010. One-Shot Frony took a picture from almost this same angle in the late 1940s if you'd like to make a comparison.
By the way, Wife Lila questioned the spelling in my headline. Fred's blog talks about that:
Grauel recalled that the stone mason wanted to alter the spelling of Shakespeare. Grauel suggested "Shakespere," one of several ways that the famous playwright spelled his name.
That spelling was used on the frieze. Soon after, letters arrived at the school from people critical of what they felt was the "misspelling" of the name.
"When the enlargement of Kent Library was undertaken in the '60s, I saw to it that the name of Shakespeare appeared on the new facade as SHAKESPEARE," Grauel wrote.
Earlier stories about Kent Library