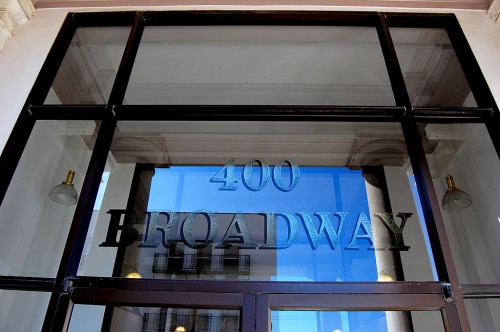 I don't have a whole lot of pleasant memories of the Himmelberger & Harrison Building – better known to natives as the H & H Building.
When I was about six, I needed to have a cavity filled. It was my first visit to a dentist's office. I don't remember the dentist's name nor exactly where his office was in the H & H Building. What I do know is that he wasn't anything like the dentists we go to these days with their high-speed, water-cooled drills, their pain blockers and soothing music.
This guy, I swear, used a drill that had to have been foot-powered like an old-fashioned treadle sewing machine. It wasn't a drill so much as a jackhammer.
To this day I am dental-phobic. I'm so rigid, that the only thing that touches the chair is the back of my head and my heels. I even tense up in a barber chair because it reminds me of the ordeal.
A visit to the Cape Convention & Visitors Bureau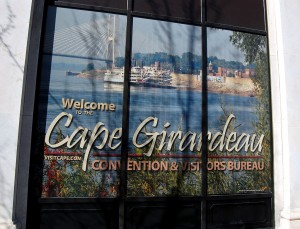 While I was in town this spring, I stopped by the H & H Building to see if the Cape Convention & Visitors Bureau would be interested in buying an ad on CapeCentralHigh. What would be a better fit than a blog getting Boomers all excited about coming back to Cape for high school reunions?
It was a very nice visit, but I walked out empty-handed. Well, truth be told, I came out worse than empty-handed. I offered to run a free ad for the Story-Telling Festival to show how well we could drive traffic to their site and I bought a T-shirt from them.
South East Missouri Trust Co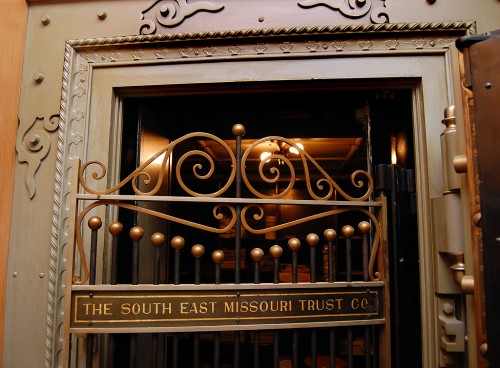 While wandering around their office, I spotted a cool old safe in the corner left over from when the office was the South East Missouri Trust Co. That's the third safe I've discovered in Cape left over from the 20s and 30s.
Yale Time Lock was cleaned and guaranteed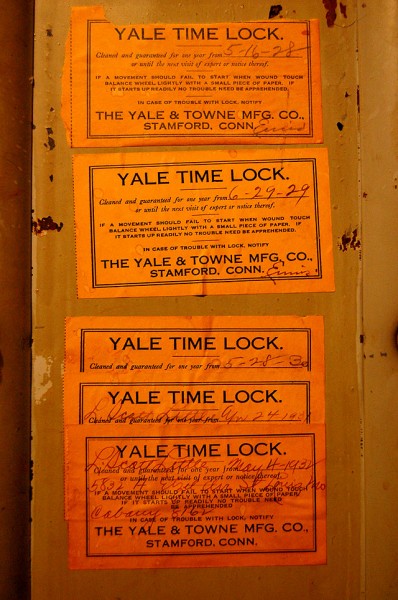 This one still had stickers dating back to pre-Depression days guaranteeing the Yale Time Lock had been properly cleaned and serviced.
After I left the office, I shot a few more pictures of the lobby area.
Staircase led to the Draft Board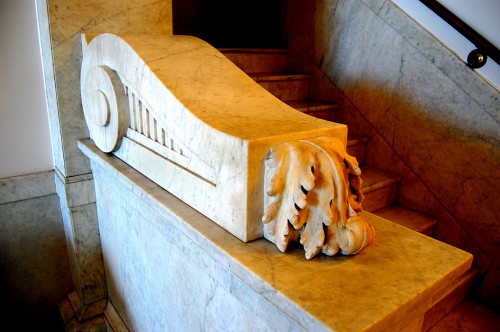 I remember that staircase. I walked up it to register with the Draft Board when I turned 18. I didn't get off to a good start with Draft Clerk Miss Lolla B. Gilbert. I guess I should back up to explain that I have lousy handwriting. Despite my Dad's best efforts, my cursive was illegible. I got in the habit of printing anything I wanted to read, and even that was a struggle to decipher.
When I had finished filling out part of the paperwork, Miss Gilbert grabbed it and said in an offended tone, "You PRINTED. You were supposed to sign."
Not wanting to make her any more distressed, I picked up the form and scrawled my signature.
Even more offended now, she said, "I can't read that."
"Mam, that's why I printed it."
"You didn't list any scars"
I won't say she was exactly mollified, but she didn't say anything else until she got down to the bottom of the form. "You didn't list any distinguishing marks or scars."
I guess I had a lucky childhood, because I had escaped any disfiguring injures, so far as I could recall. The silence grew between us.
Finally, inspiration struck. "I cut my finger once," I said hopefully.
"Where? Show me."
The mailbox where she mailed the letter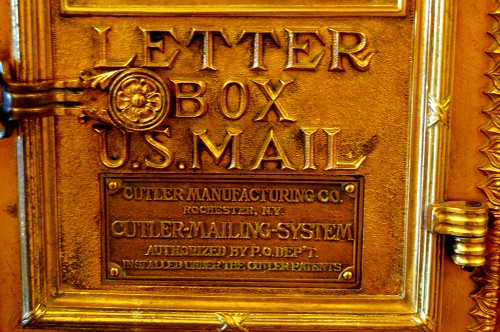 And then, as I curled the middle finger of my left hand to show her the cut, I hoped that she would take the gesture in the spirit in which it was intended.
I've often wondered if Miss Gilbert had an evil grin on her face when she sent me the letter to report for the draft physical that would have given me an all-expense-paid vacation to beautiful Southeast Asia, had I not come in Number 258 in the 1969 Draft Lottery.
Historical side note: The Southeast Missourian ran a story about the two 19-year-olds who were at the ends of the spectrum when birthdates were drawn in the Dec. 1, 1969, Draft Lottery. Gary Wayne Hurt, 1030 West Cape Rock Dr., was born April 24, the second date selected in the lottery.
Lonnie Lee Brockmire, 1826 Woodlawn, celebrates his birthday on Feb. 26, the second to last date drawn. If you'd like to look up what your Draft Lottery number was, follow this link to the list in The Missourian.
If you'd like to see what the H & H Building looked like in 1966, it shows up in the background of a fender-bender in this post.
Photo Gallery from H & H Building
Here are some additional photos from the H & H Building. Click on any picture to make it larger, then click on the left or right side to move through the gallery.