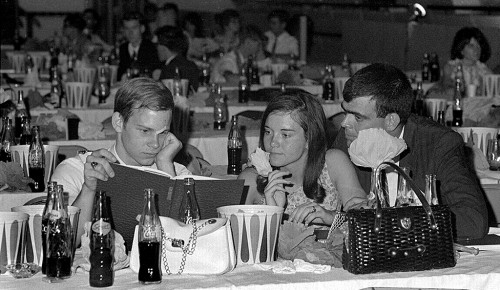 Well, at least that's what the negative sleeve said. I figured I'd better check to see what was on the roll. Yep, there's a  drunk in a ditch on 3-Mile Creek Road, but it also contained photos from the 1967 Grad Night.
The Missourian ran this on A1 with the caption: "Central's graduates and friends held an all-night party at the Arena Building. Looking at the school yearbook, The Girardot, are from left, John Young, 1220 Bend Road, and Miss Sally Campbell, 1100 North Henderson, both graduating seniors, and John Hirsch, 1855 Thilenius, a former graduate."
I thought the negative had a scratch on John's face, but it turned out to be a small bandage.
The Class of 1967 looks like Coke and Squirt drinkers. The Class of 1965 party pix had more Pepsi and 7-Ups on the tables. Here is another set of '65 Grad Night photos.
Class of 1967 photo gallery
Click on the photos to make them larger, then click on the sides to move through the gallery. The drunk in the ditch didn't make the paper, by the way.