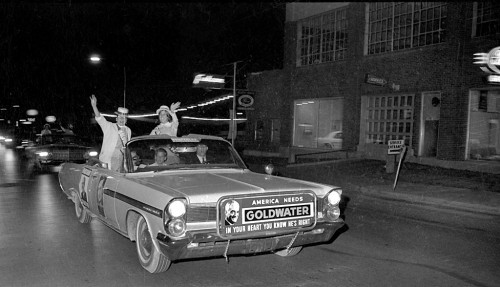 I really miss the day before PACs and big money took over political campaigns. There was a time when you could put on a campaign rally with a few convertibles and a handful of locals folks willing to don sashes and straw hats and wave at their neighbors. This Goldwater parade is headed north on Sprigg, passing the Ford dealership. The signs, of course, had to sport the union "bug." Click on any photo to make it larger.
Goldwater Girls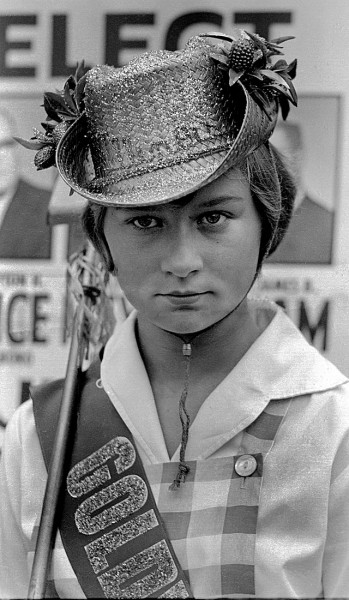 Even national campaigns had campy things like Goldwater Girls wearing homemade costumes, shown here when Barry Goldwater made a campaign swing through Cairo.
Bury Goldwater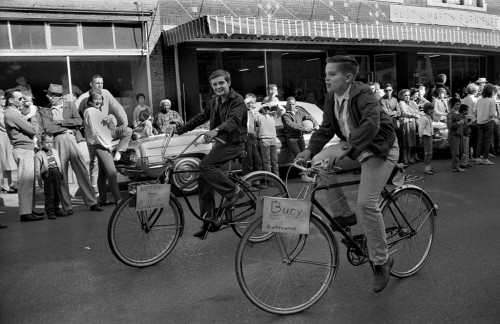 A couple of boys on bicycles with "Bury Goldwater" signs offered a counterpoint to the Young Republican floats in the 1964 SEMO Homecoming Parade. You had the feeling in those days that folks could support a candidate, but still have a cup of coffee with someone who backed the opposition.
Where did those simpler days go?