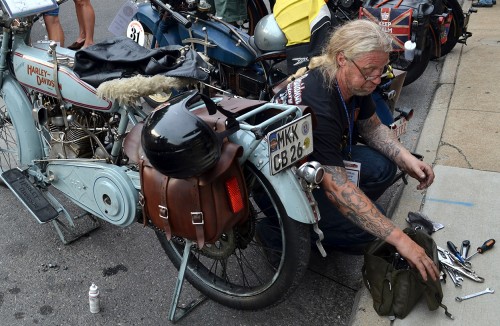 Cape was awash with sound, and I don't mean my brother's snoring. (He was on his way back to Oklahoma.) No, we were bracketed by the SEMO District Fair to the west and 110 vintage motorcycles (and the ones who came to see them) on the east.
I had to stop by Annie Laurie's Antiques to pick up something for Wife Lila. While there, Laurie reminded me of the Cannonball Run that was forming up on Spanish for a parade over to Broadway, then west on to Kingshighway, then over to William Street. I really didn't plan to shoot anything because I was going to the fair Tuesday night. Still, I couldn't resist taking a swing downtown.
I saw a gazillion motorcycles – some part of the run, some belonging to spectators – and still wasn't sure if I was going to stop. I got about three blocks away and decided this was too good to pass up. The motorcycles, some of them dating before the 1930s, started in Daytona Beach in Florida and will wind up in Tacoma, Washington, on Sept. 21.
From 24 states, and 10 countries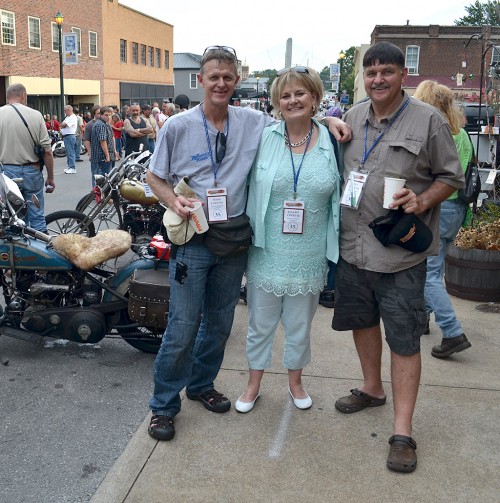 I heard smatterings of German, and took a couple of photos for some visitors from South Africa. (They wanted to make sure the bridge was in the background.)
For more information, check out Samantha Rinehart's story in The Missourian. Here is the official Cannonball Run website.
Cannonball Run photo gallery
Having never been a motorcycle rider, I was as much interested in watching the people as looking at the machines. It was a mostly older crowd who did much photo-taking and chin scratching. The body language was interesting. Click on any photo to make it larger, then use your arrow keys to move through the images.