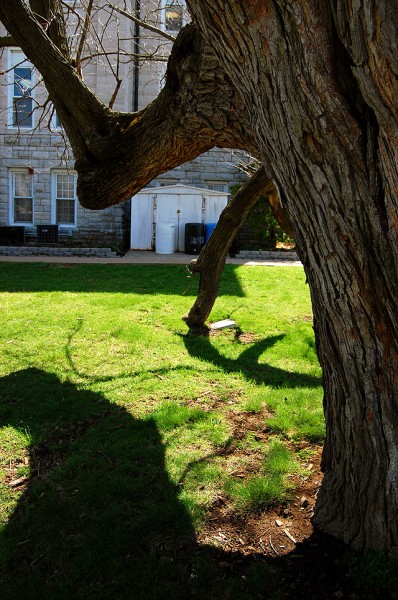 Americans have long recorded songs about justice being delivered at the end of a rope. The Kingston Trio sang the sad tale of Tom Dooley, the victim of the eternal triangle involving him, a Mr. Grayson and a beautiful woman. In the song, he laments, "This time tomorrow, reckon where I'll be, down in some lonesome valley, hanging from a white oak tree."
Toby Keith, in Beer for my Horses, takes a grittier tone, when he sings.
Grandpappy told my pappy, back in my day, son
A man had to answer for the wicked that he done
Take all the rope in Texas
Find a tall oak tree, round up all of them bad boys
Hang them high in the street for all the people to see that
[Chorus:]
Justice is the one thing you should always find
You got to saddle up your boys
You got to draw a hard line
When the gun smoke settles we'll sing a victory tune
We'll all meet back at the local saloon
We'll raise up our glasses against evil forces
Singing whiskey for my men, beer for my horses
Jackson's Hanging Tree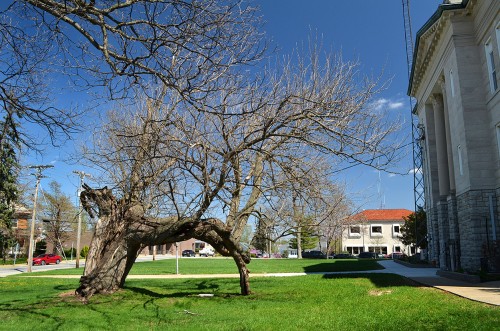 I first heard about Jackson's Hanging Tree in 2010, when MDOT proposed a roundabout on the north side of the Cape County Courthouse. Not only would it have eaten up a significant piece of the courthouse square, but it would also have endangered the tree where Cape County's last hanging took place in 1899. The photo at the top of the page was taken in 2010. You can read the history of the tree here.
Every spring, Mother would want to drive by the courthouse to see if the old Mulberry tree had made it through another winter.
When I shot this in 2014, I thought maybe this was the last spring for it, but a closer look showed it was budding out for another go.
See something missing?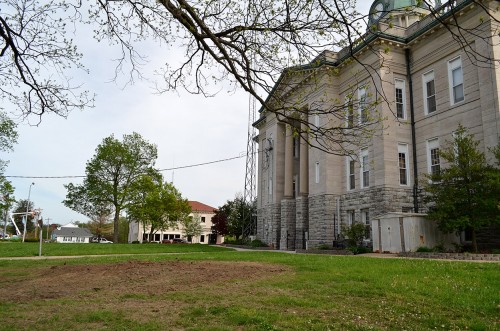 When I looked at The Missourian this morning, it had a story, "'Hanging Tree' in county courthouse square taken down." Curiously, the photo was taken not by a staff photographer, but by the tree service that chopped the tree down.
In 2010, when the roundabout was being debated, Presiding Commissioner Gerald Jones said, "If these three commissioners agree to give up that much of our beautiful courthouse lawn, there would be a three-person hanging on that hanging tree, and I believe that would be us."
The newspaper story said the tree was cut down Sunday after county officials "ordered it removed after determining that it no longer was healthy enough to remain standing."
It must have been a decision that was kept really quiet, because I got an apologetic email this morning from a good county source who wrote, "My apologies that I didn't give you a heads up on the hanging tree coming down. It was a surprise even to me."
Wonder if another one will pop up?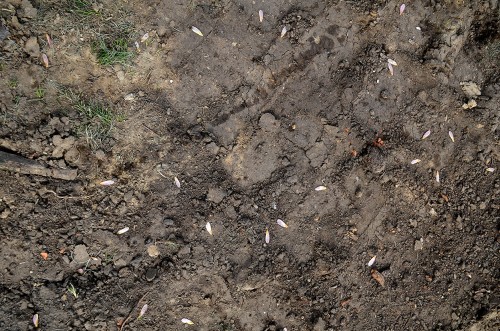 I saw a bunch of seeds on the ground where the tree once stood. I wonder if any of them are mature or hardy enough to grow us another hanging tree? You just never know when you might need one to "fight evil forces."
Preserving a few pieces

The fellow who cut the tree down was quoted as saying the wood would likely not be used for anything because it was severely rotted. The story continued, "the tree was part of local history, and he expects people to be sad to see it go."
I couldn't resist snagging a few pieces of bark for myself and the Cape Girardeau County History Center. I'm sure the center would liked to have had a bigger chunk for exhibit.