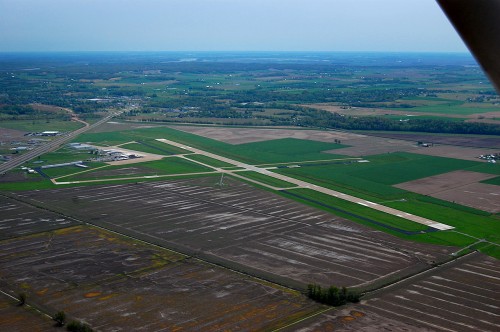 Oliver Parks predicted in 1944 that flying would become as much a part of our lives as having an automobile. So, how do you like that airplane and your neighborhood flying field? We'll get around to that in a minute. (Click on any photo to make it larger.)
When I was looking for information on the Dollar Store, I happened to spy a June 19, 1946, story that said, in part, two Cape Girardeau men – Eddie Erlbacher and Oscar Windisch – have purchased 55 of the remaining airplanes at Harris Field [now the Cape Girardeau Regional Airport]. The purchase included the fuselage, wings and landing gear; the engines had been removed and retained by the government.
Going to salvage landing gears
Twenty-two of the planes were the AT-10 twin-engine ship used as an advanced trainer. Eight were A-25 Helldiver dive bombers. The buyers took the ships at an average cost of $35 each. The men plan to use the landing gear in making agricultural and commercial type trailers for moving livestock and farm equipment.
"There are only 111 salable ships left at the field out of the 1,200 originally there. Of this number there are 48 of the PT-23 models, 30 Timms biplanes, 14 twin engine UC-78, or twin engine models, 15 AT-17 twin engine ships and four of the dive bombers."
One thing led to another, and I found the following story, written two years earlier. (By the way, the City of Cape Girardeau website has a brief history of Harris Field, which became the Cape Girardeau Municipal Airport.)
Future of aviation after World War II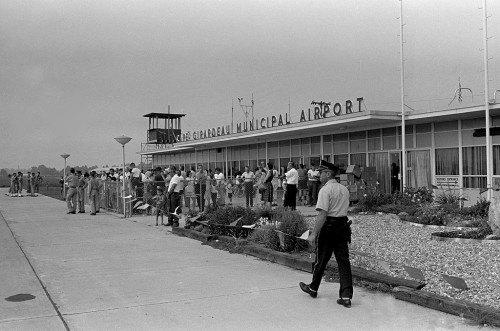 On July 6, 1944, The Missourian did a Q & A with Oliver L. Parks, head of Parks Air, which operates Harris Field [Cape Municipal Airport] and four other flying schools, who described what aviation will mean once the war is over. It's worth reading the full story about his flying predictions. Here is a boiled-down version of the more interesting parts of the interview.
Neighborhood landing fields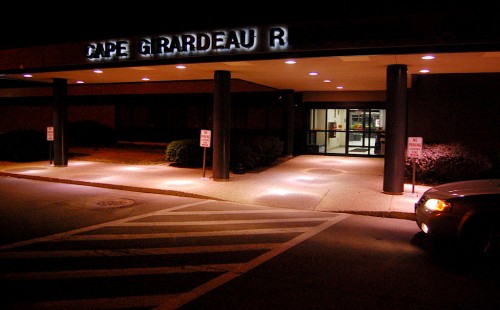 Q: Would acquisition of Harris Field answer Cape's flying needs completely?
A: No… For private flying, Cape Girardeau would want two or three small landing fields right on the edge of the residence district. Motoring is so much a part of social and business life today that our garages are a few steps from our front door; yes, in many instances, the garage is part of the home. Flying will become just as much a part of daily existence in the future. Therefore, the private flier will want his airplane hangered just across the road, if possible. In other words, we will be demanding neighborhood landing fields, small airports with turf runways, with landing surfaces 1000 to 1500 feet long and about 300 to 400 yards wide….
I'll fly out of my back yard?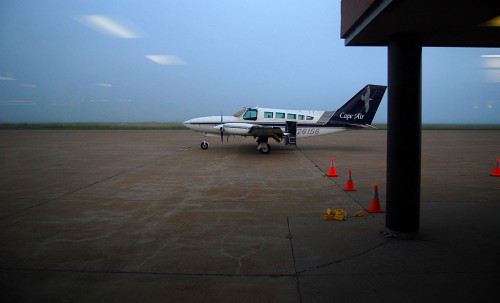 Q: Do you mean to tell me that I'll be flying my own airplane in the future, practically out of my own back yard?
A: To be sure, you will be flying your own plane, but as to your own back yard, I don't happen to know how large it is. If your back yard will accommodate runways of the brief length outlined, you could be flying your airplane – and your wife and grown children – today… As soon as air combat requirements ease up, production of … airplanes will be resumed – cozy, two-place little airplanes that will carry yourself and your wife, plus 100 pounds of luggage, on weekend visits to your friends in neighboring towns, at 100 miles per hour, on gasoline cost that can be figured at the rate of 25 miles per gallon; or, if you have a favorable wind, at that much less.
Locate a field at Country Club?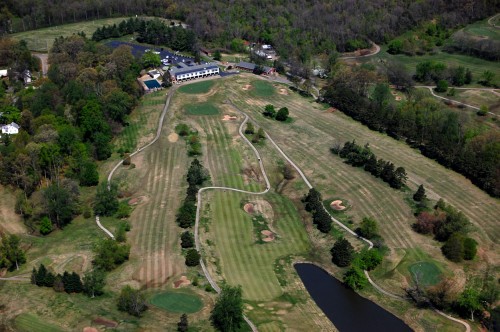 Q: Where would you suggest these fields be located?
A: At the country club, for the first one, perhaps. Then, wherever sufficient ground can be obtained at a reasonable price southwest of town, right on the edge of town.
Commercial Flights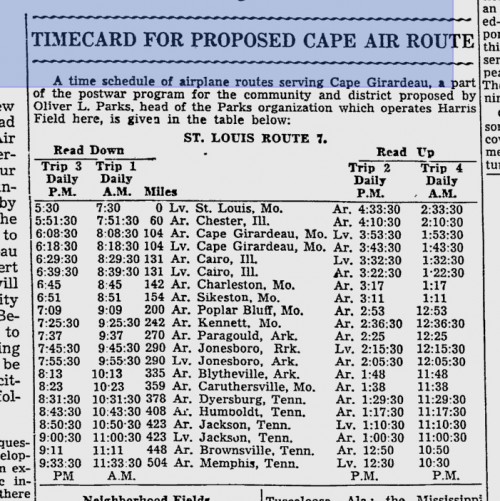 There would be scheduled commercial flights to and from Cape and St. Louis and Chester (17-minute flying time), Cairo (9 minutes).
Other airport stories