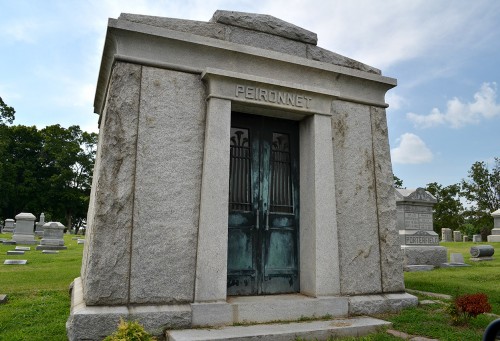 Whenever I go visit Dad's grave in the New Lorimier Cemetery, I see the Perionnet family's mausoleum just as I turn left to leave the graveyard. Missourian librarian Sharon Sanders wrote about the history of the structure in her December 5, 2013, blog. I'll steal a few snippets from it, but if you want to get the whole story, you should go to her blog.
Harlan P. Peironnet was first resident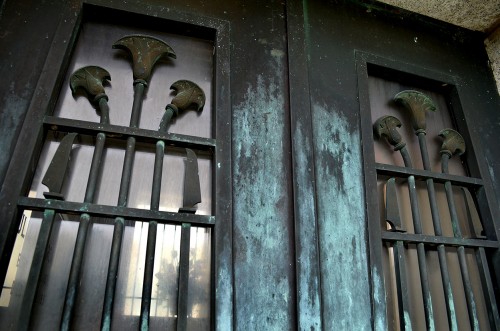 Harlan P. Peironnet was a prominent Cape Girardeau businessman when he died in St. Louis in 1912. He was first buried in New Lorimier Cemetery, but his wife and son-in-law spent $3,475 to have this mausoleum built by a St. Louis company. Newspaper accounts said some of the granite pieces weighed as much as 14 tons and had to be moved in special wagons pulled by "giant" horses brought in from St. Louis.
Mr. Peironnet's remains were disinterred and moved into one of the eight crypts in the building in 1914. His wife, the paper reported, viewed his remains, "which were in nearly as perfect condition as the day he died, a year ago."
Peironnet's wife died in 1951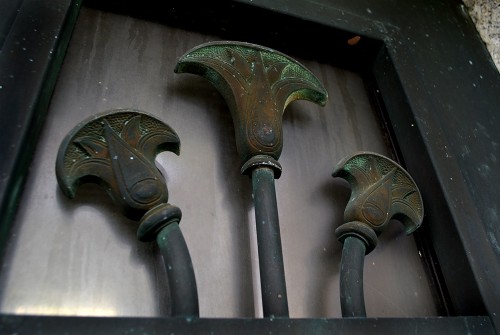 Mrs. Julia Moon Peironnet died in 1951, a few days short of her 96th birthday. She came to Cape when she was two, the daughter of one of the first practicing dentists west of the Mississippi, and was was one of the first students at Cape Girardeau Normal, which later became SEMO University. She taught school in Wayne County and in East Cape Girardeau, where she was ferried back and forth across the river in a skiff.
Lightning hit mausoleum in 1984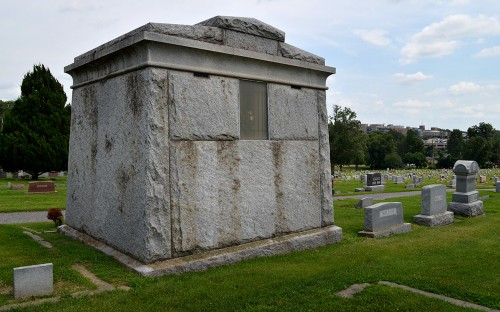 A cemetery worker making his rounds on a March morning in 1984 noticed damage to the mausoleum that he thought might have been caused by a bomb. A federal bomb squad that was called in determined that the building had been struck by lightning. The force of the bolt blew off a 2-foot by 2-foot chunk of granite, knocked off one of the double doors and shattered much of the marble slate that made up the eight biers inside.
The damage has since been repaired.
It's interesting how much of the skyline on the right is dominated by Southeast Hospital. (Click on the photos to make them larger.)
In a good neighborhood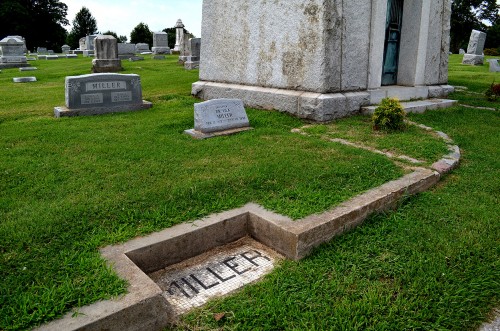 I was fascinated by the "Miller" tile work setting off the graves on the south side of the mausoleum. Had I stepped back a few more steps, I would have seen the stone marking the grave of I. Ben Miller, noted farmer and businessman.
The light-colored stone on the right belongs to Dr. Lila Miller, his daughter. Mr. Miller named his dairy farm on Sprigg Street the Lila Drew Farm in honor of his daughters, Miss Lila Miller and Miss Clara Drew Miller. Both daughters are buried in this section, along with son Edwin Miller and his wife.