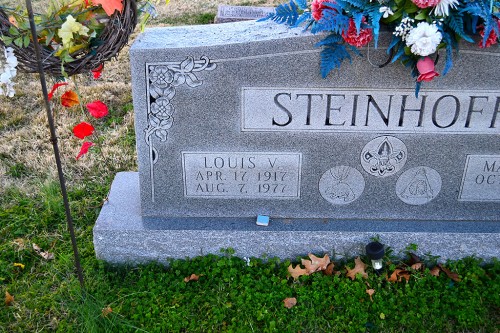 I'm blessed this Thanksgiving season that I have a great family, including Mother, who turned 91 in October and still has a zest for life.
I never come to Cape without making at least one swing through New Lorimier Cemetery where Dad is buried. One thing I've missed over the years is the opportunity to share with him some of the stories I've covered and the fascinating people I've met. I never went into much detail, but it was nice to know that there was someone out there who wanted to live vicariously through my war stories.
A few trips back, I decided to keep sharing what I'm doing in what might sound like an unusual way. After I shot the train squishing coins on the tracks in Wittenberg, I left a railroad spike and a smashed quarter on his tombstone. The spike is now driven into the dirt at the base of it, and I retrieved the quarter to give to Brother Mark.
The blue tile came from Cairo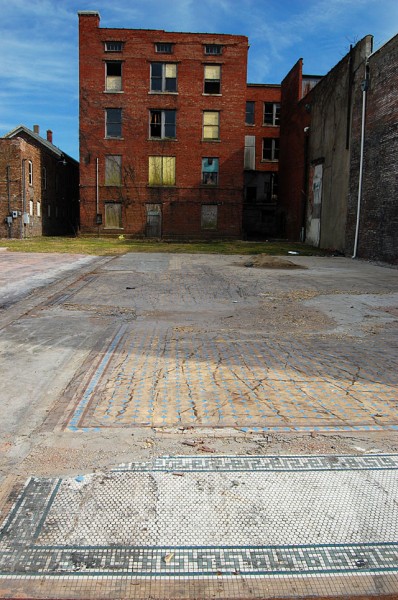 This time I left behind a blue piece of tile that used to be the floor of a building in Cairo. If I don't come up with something more interesting, on my next trip back home I'll leave some stone slivers I found on the ground at the base of a wall around the Fourche a du Clos Valley Roadside Park near Bloomsdale.
It's not very conventional, but it works for me. And, I have a pretty good idea that it works for him, too.
In case you were wondering
In case you were wondering what those three objects are in the circles on his stone, Dad was active in Boy Scouting and Order of the Arrow. The carving on the lower left represents the Silver Beaver, "the council-level distinguished service award of the Boy Scouts of America. Recipients of this award are registered adult leaders who have made an impact on the lives of youth through service given to the council. The Silver Beaver is an award given to those who implement the Scouting program and perform community service through hard work, self sacrifice, dedication, and many years of service. It is given to those who do not actively seek it."
The object on the right is the Order of the Arrow's Vigil Honor, "the highest honor that the Order of the Arrow can bestow upon its members for service to lodge, council, and Scouting." They meant a great deal to him.
You can click on the photos to make them larger.