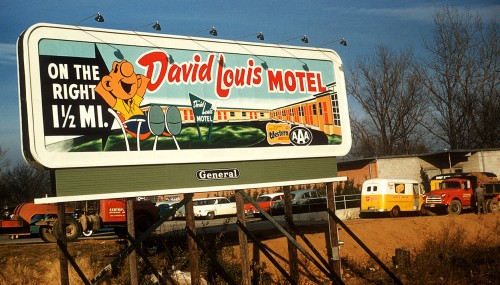 Sands Motel, which started out as the David Louis Motel was one of the most innovative places of lodging in Cape in its day, as you will see from the ads and news stories from the pages of The Southeast Missourian and the Bulletin Journal. It is now called Budget Inn.
Mrs. Evelyn Bahn sold the motel in 1986 after 33 years in the business, and 10 months after the death of her husband, Louis. According to a story in the May 25, 1986, Bulletin Journal, she and Louis had no motel experience. "We went on our honeymoon in New York City, and we stayed in motels. We liked the informality, and the fact you could drive right to the door and unload your luggage and you didn't have to tip a bellhop."
I-55 hadn't been built yet, there weren't too many roadside inns and no major chains in Cape Girardeau. The Marquette Hotel was it for upscale lodging. When they went to the bank for financing, the loan officer said they had better not build more than three or four rooms. They built five and filled them immediately. They eventually expanded to 42 rooms.
The motel was called the David Louis for the first year and a half, she said, named after their son. When they saw they were going to have other children, they changed it to the Sands.
1960 was a year of expansion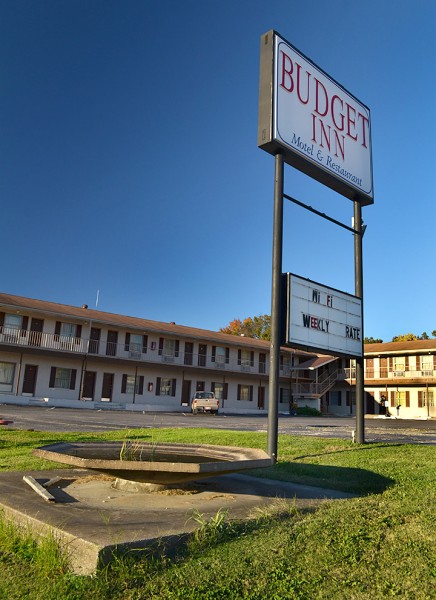 From The Missourian:
February 27, 1960 – Advertisement: The Sands Motel – New facilties planned for 1960 are: Swimming Pool. Carport, New Units. BUT the same hospitality and friendly service. Your hosts in Cape Girardeau, Louis and Lynne Bahn. Highway 61 North (Formerly known as the David-Louis Motel)
March 3, 1960 – Building permit to General Sign Co. to erect a sign of non-combustible metal and plastic, electrically illuminated, on steel posts and frame at 1448 North Kingshighway for Sands Motel. Declared cost, $3,500.
May 17, 1960 – Construction began Monday on a swimming pool for the Sands Motel on Highway 61 built of precast concrete hauled to the site and installed as the four sides of the 19-by 42-foot tank. The Penzel Construction Co. of Jackson has the contract for the $8,500 pool.
Sands Pancake House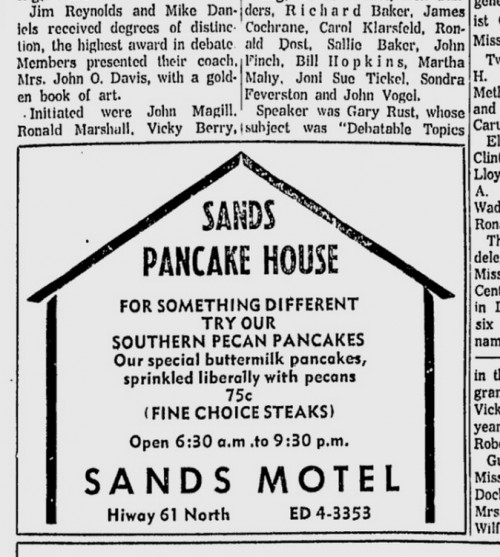 A May 1963 display advertisement offered something different: Southern Pecan Pancakes for 75 cents. Mrs. Bahn said they realized early on that they needed a restaurant to feed their customers, "but we had very little money to stock the pantry. All we could afford was some flour, milk, shortening and a little sausage and bacon. Pancakes was one of the cheaper things we could make, so it became the Pancake House."
February 22, 1964 – Advertisement: New at the Sands Motel – Wall hung TV's. Exterior Lighting, Individual Room Thermostats, Blacktop Driveways, Pancake House, Full Menu. REMEMBER For A Home Away From Home THE SANDS MOTEL Highway 61, N., Cape.
Great Christmas shopper idea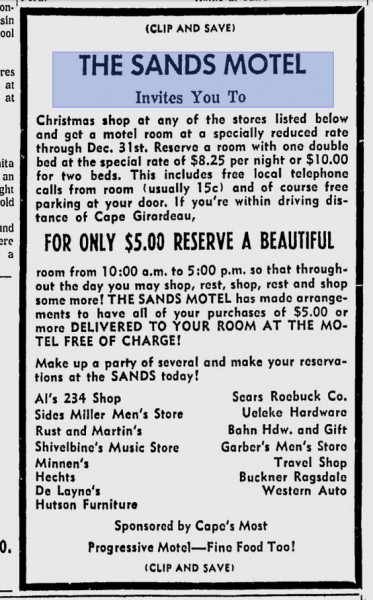 Mr. and Mrs. Bahn were great at using and promoting other Cape businesses. Look at the merchants they got to buy into the idea of having people reserve a room at the Sands to do their Christmas shopping. Renting the room from 10 a.m. to 5 p.m. meant that they could probably rent it twice in one day.
How do you like the rate of $8.25 a night?
It's actually not all that cheap for the time. If you remember, Motel 6 was originally called that because rooms went for $6 a night; Super-8 rooms were $8. I paid $2 for a room in a boarding house in Piedmont when I covered Buck Nelson's Flying Saucer Convention.
More for your money
January 29, 1965 – Advertisement: We give you more for your money because we offer more for every dollar spent. Following is just a partial list of what we offer:
1. Hot water heat (no draft) with new individual room thermostats;
2. Three (3) channel wall mounted adjustable televisions;
3. Instant hot water at your room – through special electric pumps;
4. Mattress and box springs – THE BEST;
5. Plush wall-to-wall carpeting in every room;
6. Each room individually and artfully decorated to make your stay happy and enjoyable;
7. Sizzling charcoal steaks, golden brown chicken at the Pancake House next door.
All you can eat chicken – $1.29
August 10, 1965 – Advertisement: All the chicken you can eat – $1.29 – Pancake House at Sands Motel – Wednesday only
November 15, 1965 – Advertisement: Senior Citizens Home. A new additional service at the Sands Motel. Now leasing a limited number of rooms. Beautifully furnished – private entrances; Wall-to-wall carpets – Individual baths; All means furnished – Planned recreation; Community and recreation room – Planned diet; Outdoor recreation and garden area – Transportation
June 13, 1967 – Advertisement: The Library Lounge is now open at the Sands Motel.
March 21, 1970 – The Pancake House, 1448 North Kingshighway, will reopen Monday under the ownership of Tom O'Loughlin, who has leased the property from Louis W. Bahn. Mrs. Russell Gardiner will be active in its management. The outlet will feature pancakes along with a general foods offering including steaks, chicken and the like, and will be in service from 6 a.m. to 10 p.m. daily. Mr. O'Loughlin, who also operates the Southeast Missouri Dairy, featuring King Quality products, across the street on Kingshighway, and which has a new outlet at Dudley. New space is being added for freezers and coolers. The Sands Motel, another part of the Bahn Property, has been refurbished and is now under the management of Mr. and Mrs. David Seabaugh.
Major renovations in 1970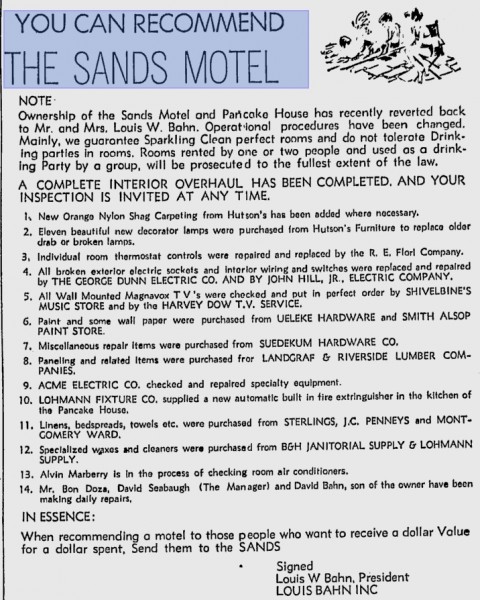 May 4, 1970 – Advertisement: Renovations included All wall mounted Magnavox TVs have been serviced by Shivelbine Music Store and have been put in perfect shape. They operate perfectly through the help of a 60 ft. tower, on which 3 separate antennas are mounted, one for each channel. This is then boosted by a Gerald system.
This May 11, 1970, ad above makes it sound like the Sands might have hit a rocky period while being managed by someone else. It was time to crack the whip.
The Bahns were good about keeping their money circulating in Cape. It was a great idea to give credit to the local merchants who were providing goods and services. I suspect mentioning all these stores insured that the word would go out that the Sands was a place "to receive a dollar Value for a dollar spent."
Out with antennas, in with Cable TV
May 6, 1979 – Bulletin-Journal advertisement: Cape Cable TV wishes to congratulate The Sands Motel upon the recent addition of Cable TV to their room services. Their guests may now choose from 10 channels (some 24 hours a day), plus stereo background music for their viewing and listening pleasure. We are sure this will be only one of many reasons you will find your stay at the Sands Motel a most pleasant experience. Cape Cable TV – 334 Christine.
1982 Look Back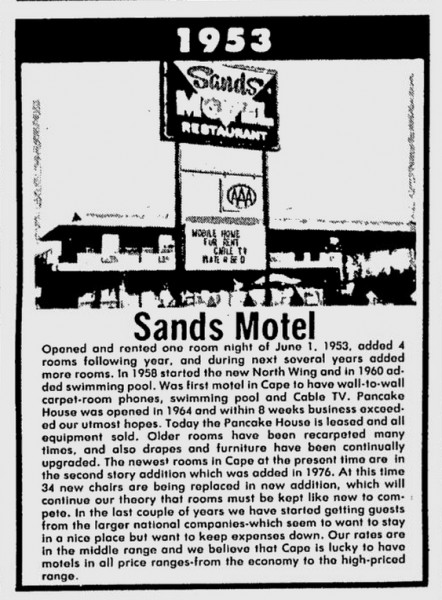 The Missourian ran a special feature on "Progressive Businesses in the Cape Girardeau Area." This was the entry for the Sands Motel.
Motel sold to Atlanta couple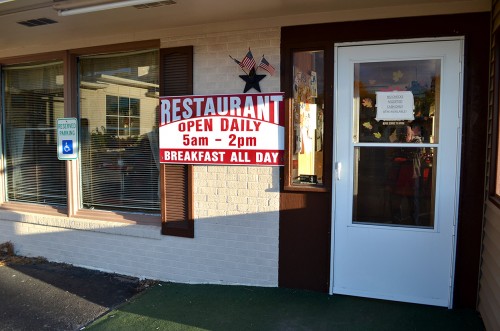 May 18, 1983 – Sands Motel and the Pancake House, owned by Louis Bahn, Inc. since they were built 32 years ago has been sold to a couple from the Atlanta, Ga., area, it was announced Saturday.
The new owners are Mr. and Mrs. Sharad Kadakia, who formerly operated a motel know as Wildes Motel at Statesboro, Ga., before buying the Sands and Pancake House and moving here.
Mrs. Lynne Bahn, president of Louis Bahn, Inc., stressed that the Kadakias bought only the motel Pancake House and Pancake House, and no other corporate stock. The new owners have moved to Cape Girardeau along with their son, Ankesh, 14, and daughter, Ankita, 8. The have moved into the motel, said Mrs. Bahn.
"They have joined the Chamber of Commerce and plan to make several improvements to the motel," she said. "I plan to stay around for a week or so to see to it that they will have a harmonious transfer. They will be fine citizens for Cape Girardeau."
The names of the motel and restaurant will remain unchanged. The motel has 42 rooms and a swimming pool.
Not sure when it became Budget Inn
The problem with trying to piece together something from Google searches is that you are sometimes left with questions. When I searched The Missourian and the web for "Budget Inn Cape Girardeau," a bunch of police briefs about petty thefts, vandalism and a rape was all that came up. I don't know when it changed from Sands Motel to Budget Inn, and I don't know when the swimming pool disappeared.
Over the years, I've found out something interesting about asking locals about the motels in their town: since they live there, most of them have never stayed in one, and those that have don't generally want to talk about it.