Buddy Bill Hopkins has published his first Judge Rosswell Carew murder mystery, Courting Murder. I've had a chance to read the book (Bill made me pay retail for it), so I should catalog my first impressions of it.
I need to make some disclaimers first. Bill is paying me to run an ad for four months. If you click on the ad which may or may not be running in the upper right-hand corner of the page (depending on whether or not his check clears) or this link, you'll be taken to Amazon where you can buy his book. If you buy his book, I make about 98 cents without it costing you anything. That might make you think I have a vested interest in saying something nice about the book and/or Bill.
Offsetting that, though, are my memories of the great job Bill did as campaign manager for my run for student body president. With him guiding my campaign, I garnered only 163 votes out of a student body of 1,200. Future Wife Lila told me years later that even SHE didn't vote for me. That effectively derailed my plans to run for President of the United States in 1984. I think that, on balance, qualifies me to write an unbiased review.
Bill interacts with teacher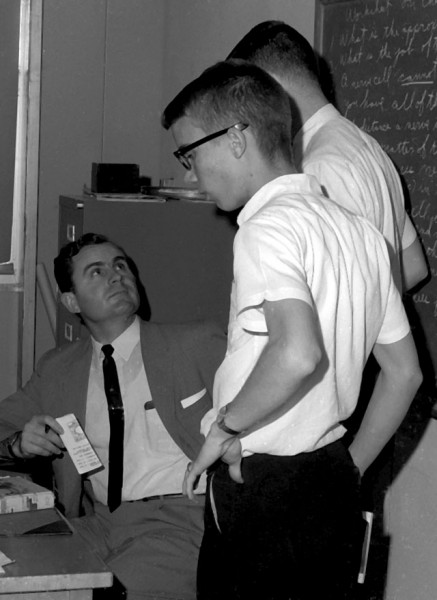 I'm not exactly sure what's happening in this photo, but the body language would suggest that the teacher isn't exactly happy with Bill and his unidentified cohort in crime.
After we left Central, I went into newspapering and Bill launched his legal career in 1971. He served as a private attorney, prosecuting attorney, an administrative law judge, and a trial court judge. We didn't really keep in touch until the days of Facebook. I'd see his name in The Missourian from time to time in connection with his judge work. I don't think I ever saw the words "brilliant" and "judge" used in the same sentence, but they also didn't use "judge" and "indicted," either, so, on balance, he didn't do too badly.
Bill's wife becomes author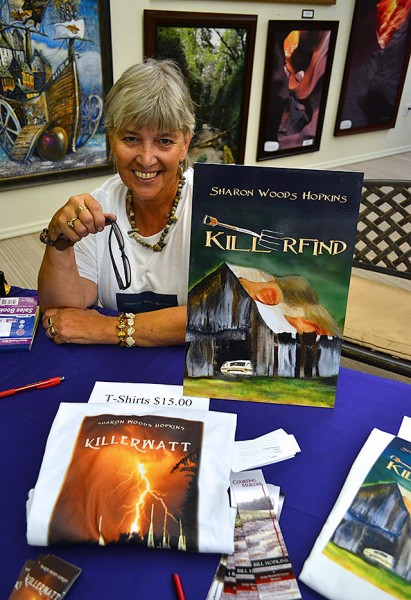 Bill's wife, Sharon Woods Hopkins, beat him to to the bookshelves with her two mysteries. I covered the book launches of Killerwatt and Killerfind.
All of the Hopkins' books are set in Southeast Missouri. Their common themes are coincidence, confusion, crimes and incompetent law enforcement officials. Oh, yeah, and lousy cell phone signals. It seems like every time the heroes get in trouble they are out of range or their batteries are dead.
Killerwatt review. You can buy it from Amazon here (and I get a cut).
Killerfind review. You can buy it from Amazon here (and I get a cut).
Courting Murder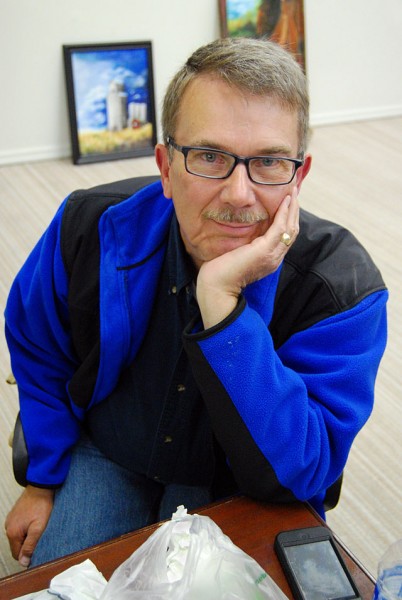 Bill's book, Courting Murder, was a perfect addition to the Steinhoff One-Stall Reading Library. Its short chapters are just the right length for picking up and setting down during brief reading sessions. I enjoyed the twists and turns in Judge Carew's attempt to decide how two people ended up dead on a riverbank and how to protect his girlfriend who is in danger from the killer/s.
Bill's plot had more twists than a Bollinger county gravel road. In fact, I kept looking at the diminishing number of pages and wondering, "Just WHEN is this thing going to wrap up the loose ends?" It was sort of like watching a one-hour mystery on TV and looking at the clock to see that they had better get the killer in the next six minutes or it's going to be continued to the next episode.
I won't say that the ending was totally unexpected, but it kept my interest right up to the last page. Bill is a heck of a lot better mystery writer than he was a student body presidential campaign manger. Again, it's available through Amazon.