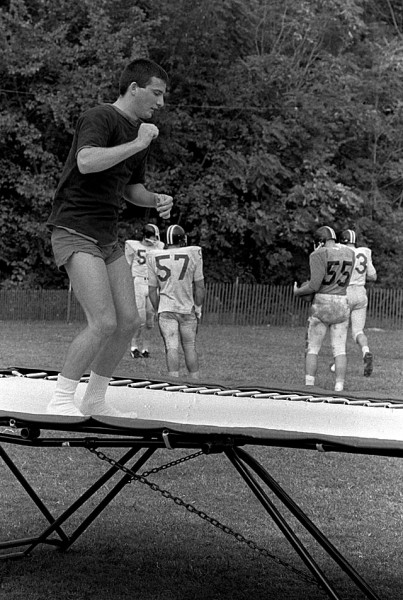 When I did a piece on Griff's Burger Bar the other day, some folks reminisced  a trampoline place in Cape. About the same time as that, I happened across these two frames shot at a SEMO football practice.
I don't know if the trampolines were set up for the football players or if they were for something else.
Is that trampoline safe?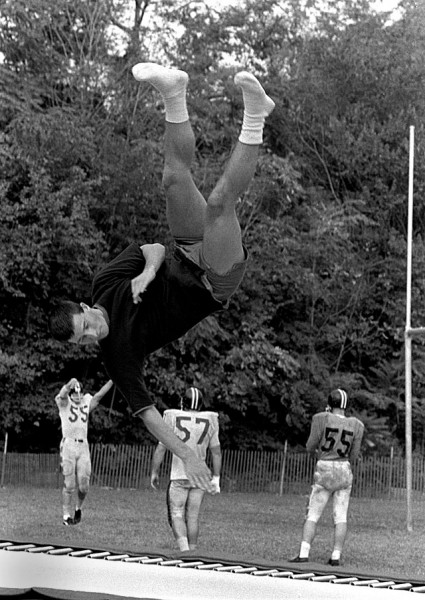 The supports and springs on that trampoline don't look like they'd hold up the weight of the football players we see today. Maybe the SEMO Indians in those politically incorrect days were skinnier than the current crop.
Chief Sagamore turned into Rowdy Redhawk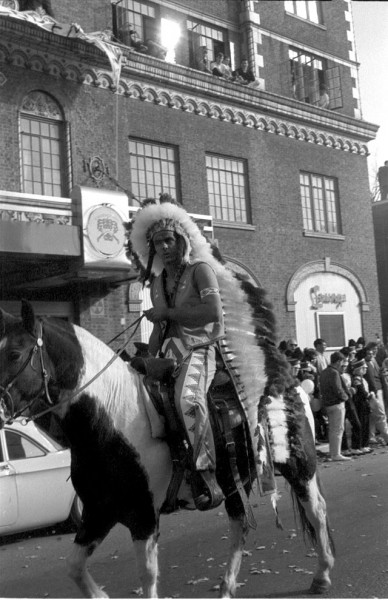 Wife Lila was confused by my "politically incorrect" comment. In an attempt to be more sensitive to Native Americans, the university changed its mascot from Indians/Otahkians to Redhawks; the university newspaper dropped "Capaha" from its name and is now known as simply The Arrow.
Chief Sagamore, shown here in front of the Marquette Hotel during the 1966 Homecoming Parade down Broadway, has been replaced by Rowdy Redhawk.
Chief Sagamore moved to Chaonia Landing Resort
The local NPR station, KRCU, has a great feature called Almost Yesterday. It mentioned that there was a 22-foot fiberglass statue of an Indian Chief at the top of Houck Stadium. The statue originally graced the War Drum Resturaunt in Sikeston (which briefly became the location of the second Lambert's Resturaunt ("Home of Throwed Rolls)). I'm not sure I have any photos of the Chief.
When "Indians" became taboo, Chief Sagamore was exiled to storage. He was later sold to the owners of the Chaonia Landing Resort at Lake Wappapello, where he was lifted to the top of the lookout above the resort.