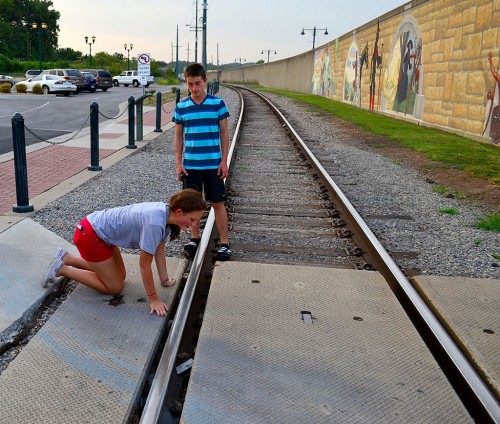 Fireworks and fishing are a lot alike: just as soon as you pack up your equipment, good stuff starts happening.
Mother and I cruised down to the riverfront just before dusk hoping that we'd see some fireworks. There was a long, slow freight southbound loaded with coal when we got to Water Street. When the train rumbled clear, I spotted Emily Sheets (Class of '13) and Billy Leighton looking intently along the tracks. (Click on any photo to make it larger.)
"Looking for coins, I bet. I doubt you're going to find any after a train like that, but if you go to this website (handing her a card) and scroll back a few days, you'll see what happens when you put a coin on the tracks."
Emily has good instincts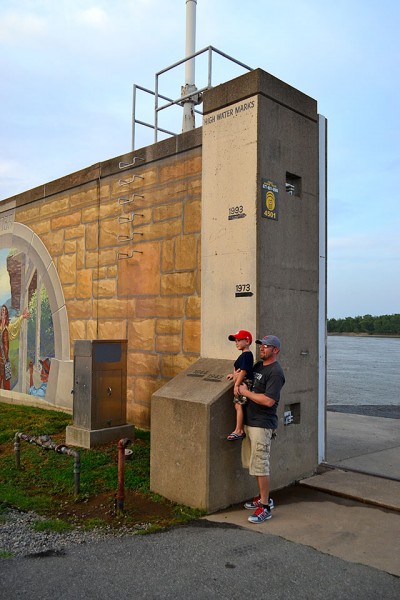 A woman started to take this picture of this man and little boy. Emily stopped her coin hunt and offered to take a photo of the three of them together. I was impressed. I liked the way she sized up the situation and volunteered her services. I usually make the same offer, but Emily beat me to the punch. (Youngsters have faster reflexes.)
Full Moon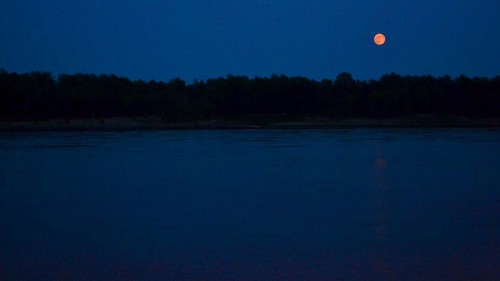 Wife Lila said the moonrise in Florida was perfect: big moon and clear skies. I remarked to a guy standing next to me that it was a little hazy coming up here.
"That's not haze. That's a layer of mosquitoes over in Illinos."
He wasn't kidding. Moments after the moon came up, we were swarmed by big, slow movers. I had two of them sucking blood out of my left thumb at the same time. That is NOT conducive to making sharp photos at slow shutter speeds. I could deal with their stabbing me, but the flapping of their wings caused my camera to bounce.
Roman candles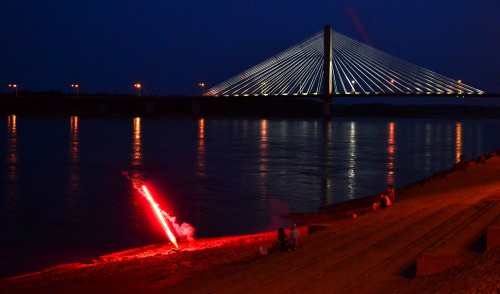 I was disappointed that not many folks brought fireworks. This family had no more than two or three Roman candles or what would pass for them.
Mississippi River on fire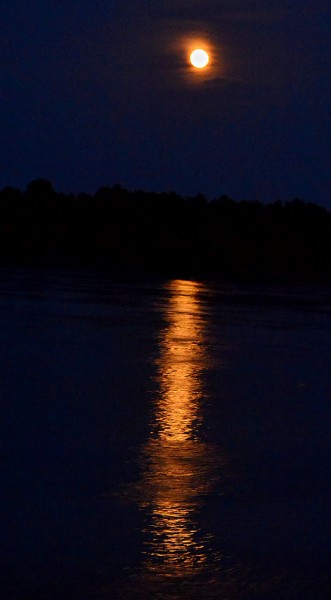 The moon was up high enough now to set the Mississippi on fire.
Grand finale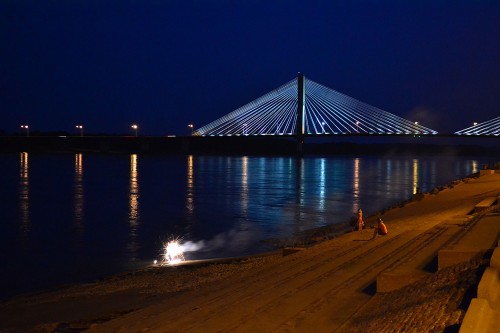 This was as close as we got to a grand finale. Shortly after the sparks died down, the family started packing up. I took that as a cue to collapse the legs of my tripod and do the same. My poor tripod is close to 30 years old and its legs are beginning to collapse about like mine. Just about the the time the shot is all composed, I find that one or more of the legs is gradually slipping down, down, down.
Just as I got to the opening of the floodwall to leave, two young guys with two humongous paper bags walked through it. Like I said, fishing and fireworks: pack up your stuff and things start to happen.
I decided I'd donated enough blood to the mosquitoes. It was time to bail.
P.S. I'm going to try to convince Mother that it's too dry for her to play with fireworks this summer. She tried to set my feet on fire last year.