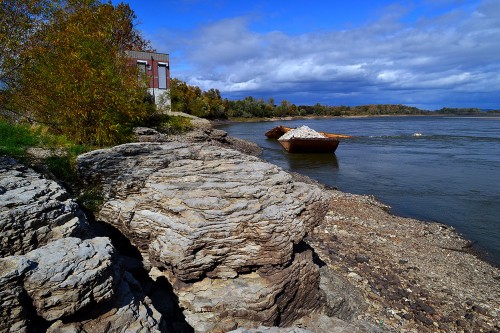 The parking lot at the foot of Cape Rock had more cars than usual. They were checking out two barges that had run aground and sunk right in front of the water intake structure north of Cape Rock. One, loaded with rock, grounded parallel to the bank. One that was either empty or had dumped its load was sticking out in the river with a floating drum marking its stern.
Low water causing problems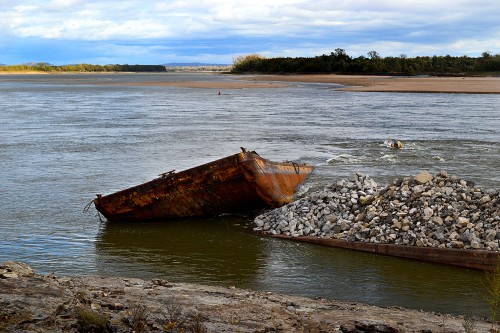 I searched the paper and TV station websites for information about the barges, but came up dry. Someone at the scene said a southbound tow with 25 barges didn't get set up right for the turn and ran aground, dropping these two and sending others drifting downstream where they had to be caught.
I was also told that 20 was the maximum string under these conditions, but I couldn't confirm that. I thought doing a search for Coast Guard Upper Mississippi notice to mariners would give me everything I needed to know, but navigating the river on a dark, stormy night would be easier than trying to find that information.
My barge quest put me onto another adventure that you'll hear about later.
Sunken barge photo gallery
Here are some other photos of the scene, including some rocks that are normally under water. Click on any photo to make it larger, then click on the left or right side of the image to move through the gallery.