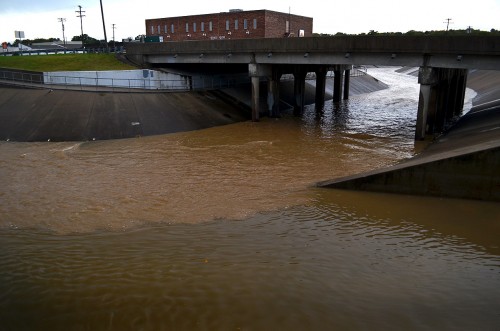 The weather alert radio was busy this afternoon with severe storm warnings, tornado watches and warnings. We did a bunch of running around between showers and drizzles, but beat feet home before the bad stuff got here. The trees bent down for a bit and there were a few times when we couldn't see across the street, but it moved on quickly.
The storm water system constructed in the mid-80s wasn't nearly so full as it was when a frog-strangler hit in 2011, but you can see it's still moving quite a bit of water. The lighter-colored water passing under South Kingshighway is Cape LaCroix Creek; the darker water being held back on the right is what drains down from neighborhoods to the north.
I wonder if the people in that brick office building know that when I was growing up on Bloomfield Road in the '50s that it was a packing house of some kind. There was a little dam across the creek there and the building discharged something that, when the wind was right/wrong, stunk to high heaven.
Double, maybe triple rainbows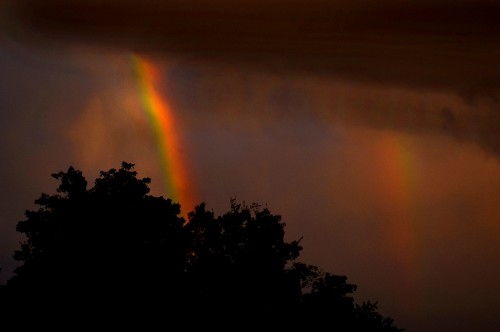 We drove around town for bit, paused at the riverfront, then headed west on Broadway. In the rearview mirror, I could see a rainbow, but wasn't sufficiently impressed to stop. I pulled into a parking lot to check out the Mexican restaurant across from Houck Stadium. When I looked up this time, the rainbow was much brighter, so I went to the car for my camera. Much to my surprise, when I got out to the street, it had turned into a double rainbow. The second one isn't quite as bright, but, trust me, it's there. For a second, I thought I saw a third rainbow, but I could have been mistaken.
Coming into Jackson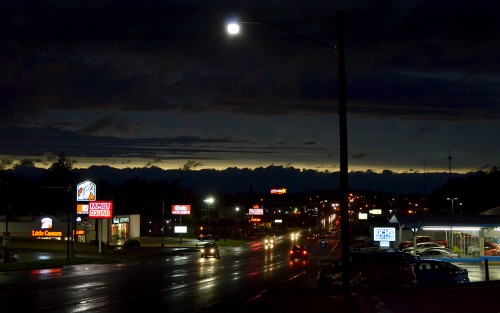 We were on our way to Jackson shortly after the rainbows when a thin stretch of the horizon under the dark storm clouds flamed bright orange. I rushed out to North County Park to try to get a high, clear vantage point, but the light was gone by the time I got into position.
The best I could come up with of the end of the storm was a night shot coming down the hill into Jackson.
Click on the photos to make them larger. There has been a software change that I have to tweak. You can still use the arrow keys to move through the photos and press the X or ESC key to exit them. I'll see if I can get it to look more like what you were used to seeing.