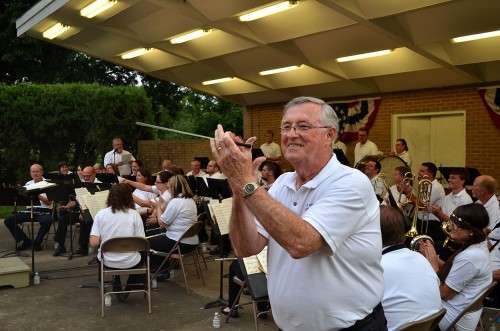 Eric McGowen is a good guy to know. He's tipped me off to some good stories and gotten me into places folks don't normally get to go.
Eric sent this email a few days ago: I had noticed that you'd attended and done a story on the Jackson Municipal band – tomorrow night is the last Cape Municipal Band concert for the season.  Concert starts at 7:30, but if you wanted to come take pictures of the inside of the band shell before hand I'm sure I could get something worked out for you.
[Editor's Note: above is Ron Nall, who started playing with the band in 1967 and became the conductor in 1992.]

Wall of directors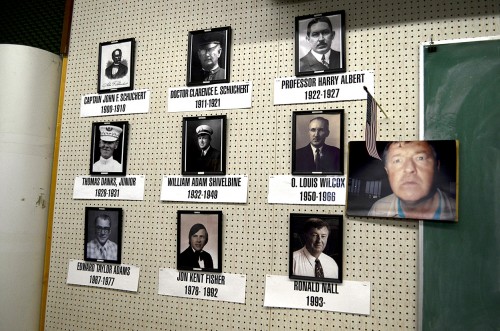 There would be some great shots – there's pictures on the wall of every director since the inception of the band – 100+ years worth.  (and Trombonist Dr. Dan Cotner has played for 75 of those).  This is my 20th year playing saxophone with the Cape Muny Band – it's a great collection of College and High School music teachers, high school and college music students,  and schmucks like me who still enjoy the heck out of playing.  Just an idea.
Dr. Cotner's 75th year with band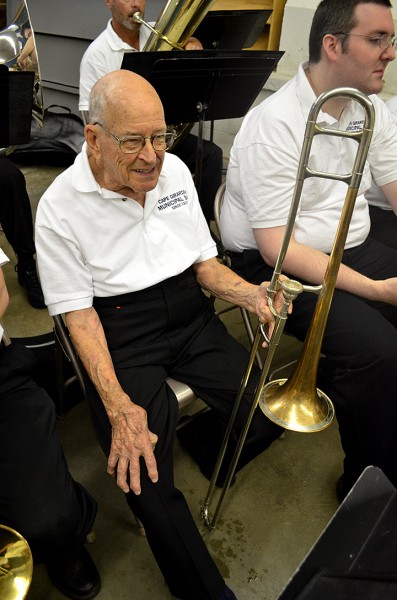 This marked Dr. Dan Cotner's 75th year with the band, breaking a record set by Homer Gilbert, who played 74 years. Jerry Ford was recognized for 57 years of service.
Stories about the band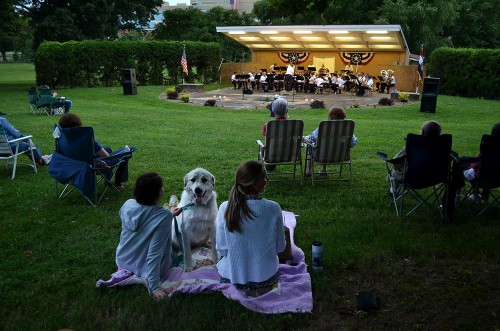 Not only did Eric provide the tip and the access, but he also sent me several links to Missourian stories ABOUT the band. I'll post those links to give me more time to process a larger photo gallery in order to show more band members and the audience.
Guest conductors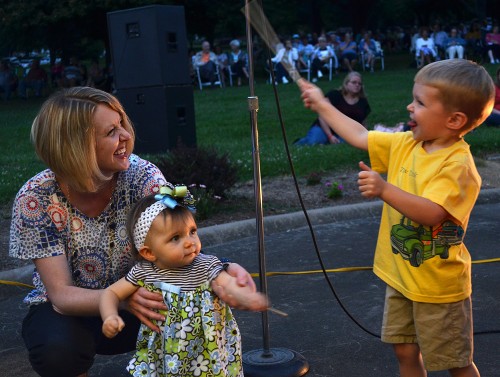 "Children of all ages" were invited down to the front and given "batons" so they could play conductor. Narrator Tim Gould told the audience that the word "baton" is pronounced differently in different regions. "In Jackson, they just call them 'sticks,'" he joked. (I THINK it was a joke.)
It was hard to tell whether some of the boys were conducting the orchestra or sword fighting, but the music still sounded good.
Star Spangled Banner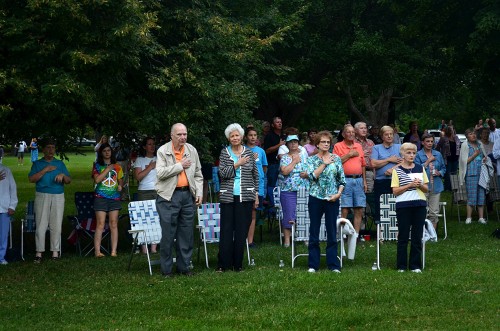 It was touching to watch the audience stand with hands over hearts and sing the Star Spangled Banner.
Band concert photo gallery
Click on any photo to make it larger, then use your arrow keys to move through the gallery. (Because the gallery is so large, it may load slower than usual. Restart it if it seems to hang up.)