Johnny Rabbitt petition drive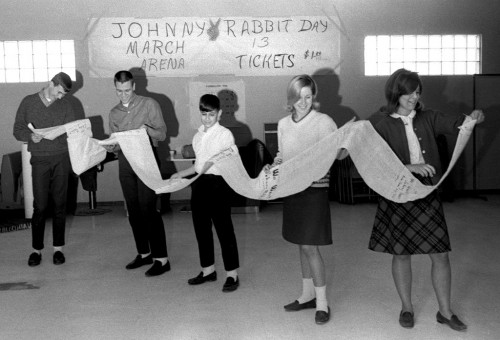 This caption ran under this photo in The Southeast Missourian's Youth Page on March 2, 1966:
Five members of Cape Girardeau's Teen-Age Club hold a petition containing the signatures of more than 1,000 high school pupils asking Johnny Rabbit, KXOK disc jockey, to come here March 13 to emcee a dance at the Arena Building. Money from the dance will be used to pay Teen Town operating expenses previously underwritten by the United Fund. A TAC spokesman said that the teens would like to pay their own expenses so that United Fund money could be used for "underprivileged families." The youths above are, from left, Bruce Ashby, son of Alfred Ashby, 1502 New Madrid; Steve Robert, son of Mr. and Mrs. Norman Robert, 1608 Perryville Rd.; Alan Hecht, son of Mr. and Mrs. Martin Hecht, 2416 Terry Hill; Miss Mary Wright, daughter of Mr. and Mrs. Earnis Wright, 811 Perry, and Miss Jane McGinty, daughter of Dr. and Mrs. Charles McGinty, 2435 Brookwood.
I was editor of the Youth Page at this time, and I used this photo as a four-column masthead for the page from time to time.
T or TT?
One thing that's interesting is that both The Missourian and the photos show Johnny Rabbitt spelled with one T. All of the references I can find on the web show Rabbitt spelled with two Ts. I'll stick with the two-T version.
Rabbitt's real name was Don Pietromonaco. He was on the air at KXOK AM630, a 5,000-watt radio station, from 1963 to 1969, He died in 1997. Here's a fairly good tribute site with more info.
I was a WLS Dick Biondi fan, myself
Dick Biondi (whose name I had never seen in print before writing this) came booming out of Chicago on 50,000-watt WLS. Go here to hear a clip of him. He is credited with being the first U.S. disc jockey to play the Beatles after he cranked up Love Me Do in February 1963. His signature song was On Top of a Pizza.
I had one of the first transistor radios to hit the market. It was a little bigger than a pack of cigarettes and used an earplug for a speaker. I can recall sitting at Camp Lewallen Boy Scout Camp listening to Biondi many a night. (I wore the radio when I was delivering newspapers, too. One day I walked up to a house to collect for the paper and the elderly woman looked at me, shook her head sadly, and said, "It's a shame that a boy your age has lost his hearing." She gave me a larger than usual tip, so I didn't tell her it wasn't a hearing aid.)