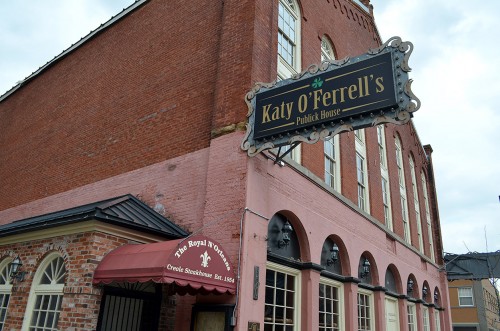 One of the first things I spotted on the way down Broadway was the name change on The Royal N'Orleans – Creole Steakhouse Est. 1954. The old name was still on the entrance canopy, but the two signs facing Broadway now read Katy O'Ferrell's Publick House.
Dr. Lily Santoro, Chris Kinder and I tried to stop there for lunch after the Techniques in Local History class last week, but it was closed.
A March 17, 2014, Missourian story said Mark Dirnberger, the owner, got his start working at the Burger King on Broadway when he was 16. He also owns Bella Italia. I'll catch Katy's when it's open and report back to you.
The Royal N'Orleans closed in 2009. I have to admit that I was concerned when it was still dark in 2011. I hope Dirnberger can make a go of it.