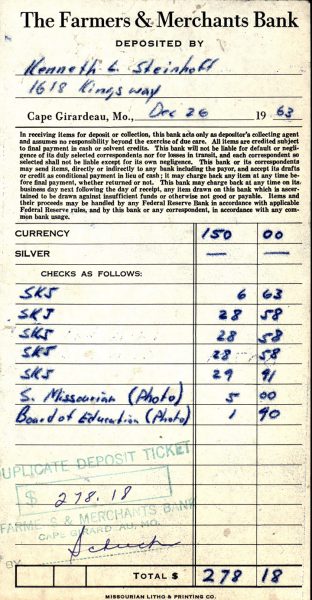 While I was going through old files at Mother's house, I ran across this deposit slip from December 26, 1963. I thought of it with Labor Day coming up.
It tells a number of stories
I was paid slightly under thirty bucks a week from SKJ – Steinhoff, Kirkwood & Joiner. Dad put me to work as a laborer one summer mostly to show me why I wouldn't want to go into the construction business. It was the only time from age 12 until I retired from The Palm Beach Post in 2008 that I wasn't employed by a paper in some capacity or another.
Even then, I had two deposits for photos: $5 from The Missourian, and $1.90 from the Board of Education (I don't have a clue where that odd amount came from).
Another guess is that Dad must have leaned on me to cash all my summer checks before the end of the year so he could close out his books. As a kid with few expenses, I drove the poor accountant at The Missourian crazy because I wouldn't cash my checks for weeks. This was the last time in my life I was able to cause that problem.