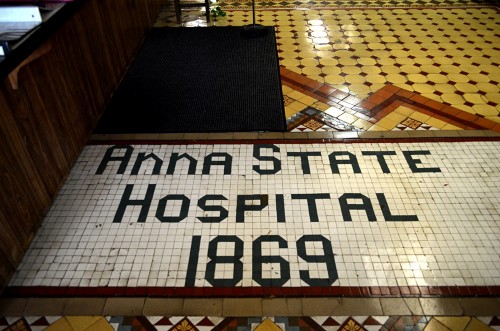 The state mental institution in Athens, Ohio, built in 1868, is an example of the Kirkbride building style that was popular in the late middle 1800s for mental hospitals, so Curator Jessica was excited to hear that a similar building – Anna's Choate State Hospital – was of similar age and architecture. (Click on the photos to make them larger.)
Almost palatial looking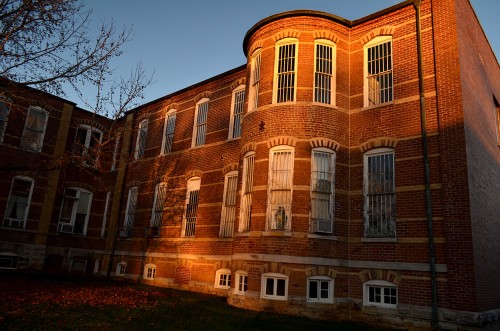 A website documenting Kirkbride buildings (worth a look) said they were "once state-of-the-art mental healthcare facilities. Kirkbride buildings have long been relics of an obsolete therapeutic method known as Moral Treatment. In the latter half of the 19th century, these massive structures were conceived as ideal sanctuaries for the mentally ill and as an active participant in their recovery. Careful attention was given to every detail of their design to promote a healthy environment and convey a sense of respectable decorum. Placed in secluded areas within expansive grounds, many of these insane asylums seemed almost palace-like from the outside. But growing populations and insufficient funding led to unfortunate conditions, spoiling their idealistic promise."
Plagued by fires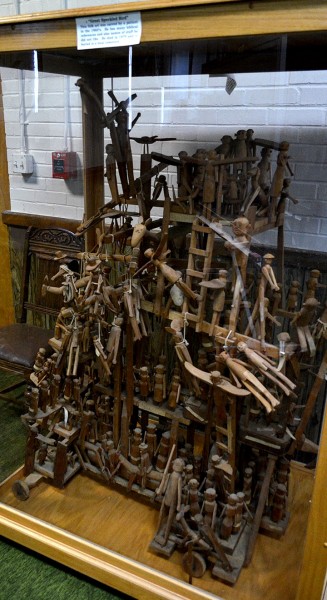 It's hard to tell how many times the institution was plagued by fires. One account said the north wing caught fire from unknown causes in 1881, destroying it and killing one patient. In more recent history, the top two floors of the main administration building caught fire and were removed.
Patients are encouraged to work on crafts and projects. Some are on sale in the admin building. THIS patient carved the  Great Speckled Bird in the 1960s.
Made some staffers uncomfortable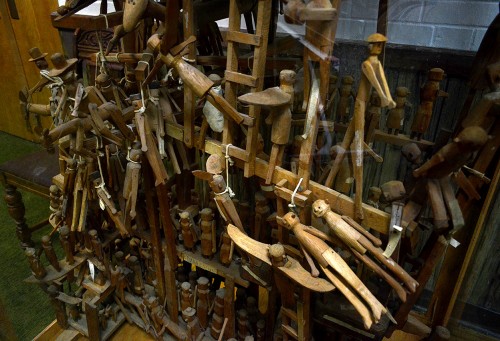 The patient, who died in the early 1970s, labeled the piece with many biblical references and the names of staff members he didn't like, making them somewhat uncomfortable.
"Crib bed"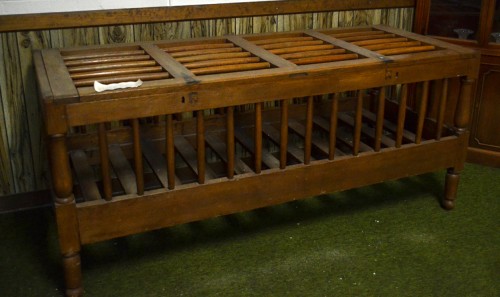 The "crib bed" was used for patients who needed to be restrained for their own safety or the safety of others. We were told it was rarely used. To my claustrophobic eyes, it looks like a coffin with slats. If I wasn't mentally disturbed going into the bed, I would be when I was released.
Despite things like this, the hospital got good reviews. An 1893 report on Charitable Institutions of the State of Illinois said "the general appearance of this Hospital is not so neat, and the discipline is not so strict, as in the other State hospitals, but the medical results, in the way of recoveries, have been superior."
20 percent of patients died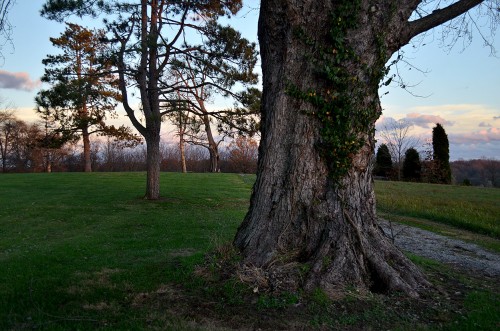 The 1893 report said that the rate of recoveries to total discharges has been 36%; improved, 22%; unimproved, 22%; deaths, 20%. The average per capita maintenance cost in 1892 was $166.63. The average number of inmates in that year was 802 (although the number was probably smaller because of re-admissions and transfers).
Many of the dead before 1939 are buried in unmarked graves in this hilltop cemetery near the hospital.
Newer graves are marked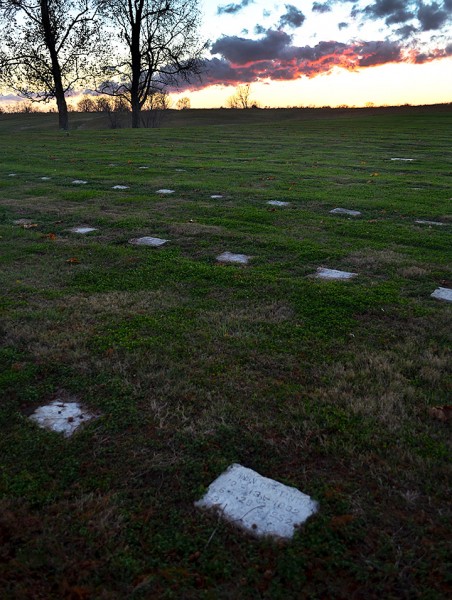 Some newer graves are marked with simple concrete stones. We were surprised to see no flags are any other indication that an individual had served in the military, unlike the Athens cemetery, where the graves are decorated.
Choate Cemetery at sunset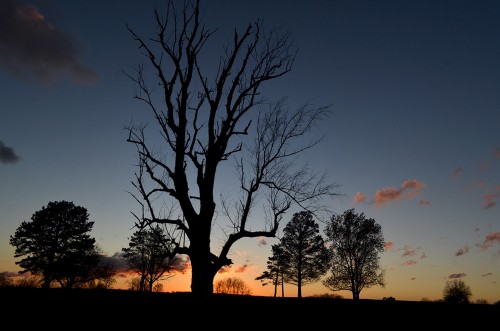 The sun was starting to dip below the horizon as we were leaving the graveyard.
Anna State Hospital administration building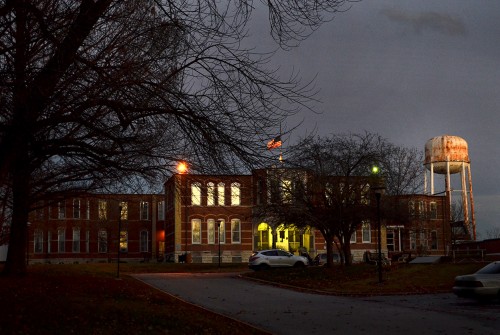 We had a chance to take one last look at the admin building. The American flag is flying at half-mast because of the killings in Paris.