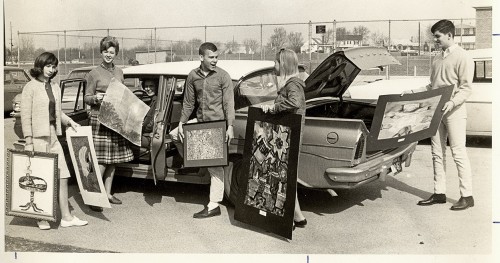 When I took this photo in March of 1966, five students were in the picture, along with their teacher, Mrs. Edna Glenn. If you look at the crop marks on the margins of the print, though, the poor guy on the right was cut out.
I don't know who you are, but, here, 49 years later, you have made it into print. (Click on the photo to make it larger.)
The photo caption in the March 5, 1966, Missourian said, "More than 35 local high school pupils have entered an art contest sponsored this weekend by the General Federation of Women's Clubs and the Hallmark Card Company. Here, four Central High School pupils and Mrs. Edna Glenn, Central art instructor, take some of the art works to the KFVS Studio, 324 Broadway, where the exhibit is being held. The pupils are, from left, Miss Susan Welker, Miss Linda Davis, John Young and Miss Holly Lueder. Mrs. Glenn is seated inside the car.
Mrs. Glenn was mentioned in other stories