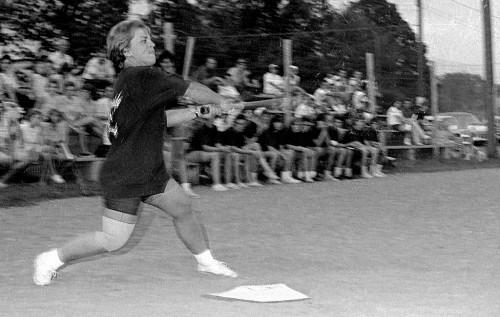 Newspapers in the 60s and 70s didn't expend a lot of ink covering women playing sports, so I didn't shoot a lot of it.
All I know about this game is that some of the women have shirts with Riverside West and ISC on them. I wonder if ISC stood for International Shoe Company?
Limitations of electronic flash
Technically speaking, these pictures suck canal water. It was dark enough that I used a strobe to punch up the lighting. The problem is that strobes are great for stopping action – they have a very short duration – but the cameras of those days required you to use a slow shutter speed, generally around 1/60 of a second. That meant that you picked up ghosting and movement from the ambient light.
On top of that, the negatives were scratched up from being rolled up in a coffee can for 35 or 40 years.
Photo Gallery of Riverside West vs. ISC
Y'all have been getting really good of late at identifying people and places. Maybe you can fill in the details of this game. Click on any image to make it larger, then click on the left or right side of the photos to move through the gallery.