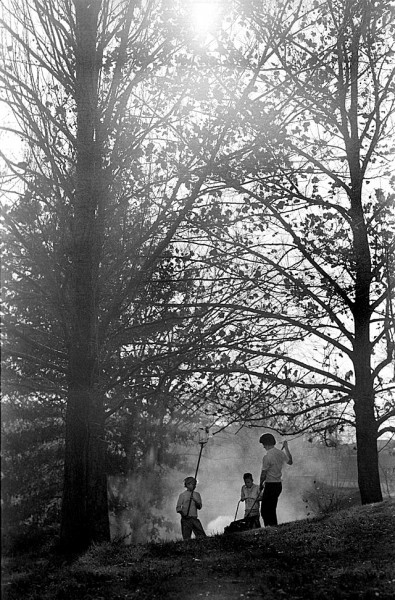 OK, I kinda missed the season on this one, but you get 'em as I find 'em. This was on the same roll as the Atlas Plastic strikers, so it must have been taken in September of 1966.
This is what's called "wild art" in the business. It's a feature shot with no real news peg. I don't think it ever ran, so I wasted a few minutes of time and three or four frames of film that were going to be processed anyway.
Following rules can make for dull photos
This photo breaks several of the normal snapshotter rules that say you should always have the sun at your back and never shoot into it. Those are good rules, but they also make for dull photos.
In this case, I let the foreground detail go dark, creating a partial silhouette effect. I was hoping that the backlighted smoke would separate the subjects from the background, which it did. I like the composition of the woman holding her rake down, while the boy on the left has his pitchfork up in the air.
I wish the boy with the cart had been half a step to the left, but the other elements were missing when HE was in the right spot. This wouldn't be a good picture if you wanted to be able to identify the people in it, but it's captures the feeling of raking and burning leaves in the late afternoon.