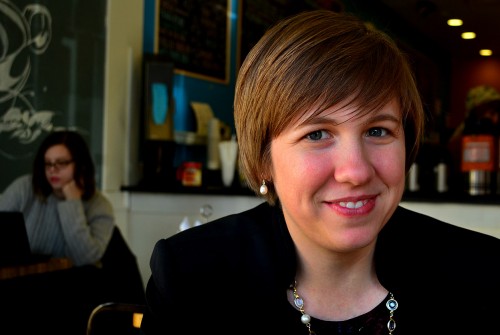 Friend Jan Norris and I spent the day at the Athens County Historical Society and Museum meeting with curator Jessica Cyders and other folks. They are a great bunch of folks who made me feel very welcome and very flattered.
It's fun to see people get excited about small details that help them fill in holes in the area's history. It looks like my Ohio era photos could end up with the society when I go toes-up.
I had forgotten how hilly Athens is. If Norris stayed here a week, she'd have the Athens Calves that everybody develops here. I wish I had taken a photo of her in her many layers today. "Is there any color in the rainbow that you're NOT wearing?" I asked her. If her lips hadn't been frozen together, I'm sure she would have come up with a smart reply.
Jan may get to see snow falling
Weather could be interesting. The first forecast I saw this morning showed Cape getting up to five inches of snow on Thursday and Athens getting the same amount on Friday. Both have been revised downward, but the official word from the weather service is "a fast moving winter storm system is forecast to race across the quad state region Thursday night and depart Friday morning. The latest available forecast model guidance suggests while it is still too early to pinpoint exact amounts and locations… it continues to look like at least some accumulation of snow… ice… and sleet is expected with this system."