This Missourian paperboy is in our driveway on Kingsway Drive, but I'm not sure who he is. He doesn't look big enough to be my neighbor, Eddie Ailor. (Click on the photos to make them larger.)
They were ALL paperboys back in those days. In fact, I remember seeing a condescending story in the newspaper trade magazine, Editor & Publisher," about a GIRL who actually carried papers in some town or another. "With her interest in newspapers," the story said,"she could grow up to be secretary to the publisher some day." Even in the 1960s, I knew that was the wrong thing to say.
The sad thing is that there are very few "independent contractors" of a young age throwing papers these days. The switch to morning papers means that deliveries are made early, early in the morning, instead of in the afternoon when kids are out of school for the day. Paranoid parents wouldn't want their kids out on the street after dark and knocking on the doors of strangers.
And, let's face it, my first paper route paid me $2.50 a week as a sub working for another kid. That was for delivering six days a week and collecting for the paper on Saturday morning. Things got better when I got my own route – I made about 24 bucks a week – about half as much a week as a paperboy as I did as a Missourian reporter, but I had to have a couple of kids working for me and I still had to be out in all kinds of weather. That's a lot of work for not much money.
Better than flipping burgers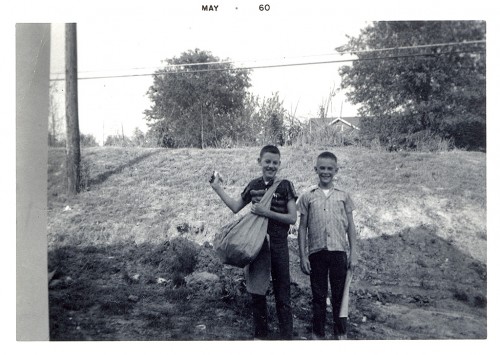 These guys are at the gas station where we picked up our paper. I think it was a Gulf station on Kingshighway south of the Food Giant. Names come to mind, but I'll let you tell me who they are.
I remember those canvas bags well: when I got my route at age 12, I had to carry my bag crossed across my chest like the boy on the left to keep it from dragging the ground. The piece dangling down by his leg was designed to fold over the papers on the inside of the bag to keep them dry when it was raining. On good days, you'd put one or two unfolded papers in the back of the bag, then put the rain cover over the top of them. That would give some shape to the bag and made it easier to carry.
I can't think of any job today that a 12-year-old kid could do that would teach him (or her) that much about business. Dad made me keep a complete set of books tracking all of revenue and expenses, customer by customer. I would have been happy to count the number of receipts in my ticket book when I started collecting, count the number left when I finished and multiply the difference by 30, 35 or 40 cents to figure out how much of the money in my pocket was collection money and how much was tips. That wasn't good enough for him.
You learned the responsibility of being on the job six days a week (or finding a kid to sub for you); when I got my own route, I learned how to sell the paper (growing my route from 90 customers to 300), and I learned how to recruit, hire and fire the kids working for me. Labor relations became very personal and important: you couldn't mistreat your workers or they'd start thinking about how little they were being paid and quit.
The hills got steeper
You can say what you want to about erosion, but I found that the hills had gotten steeper over the 50 years between when I was riding up them on my single-speed Schwinn and when I tried it on my modern touring bike with low, low gears. It's hard to believe that I rode up those gravel roads carrying a bag of papers that weighed about half as much as I did.