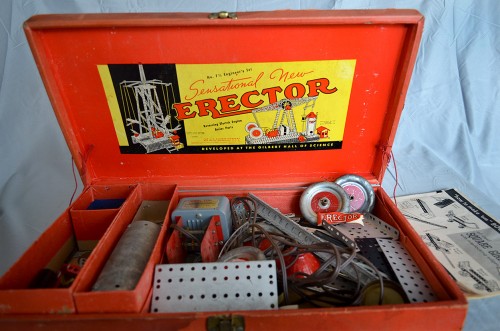 Many an hour was whiled away building stuff with my "Sensational New No. 7-1/2 Engineer's Erector Set." (Lincoln Logs came first.)
Based on an excellent reference, Gilbert Erector Set Guidebook by Bruce H. Hansen, my particular set was a 1957 model. The giveaway is the illustration of a walking beam engine.
Mine is a piker compared to the 1931 #10 Climax of Erector Glory set which weighed in at 150 lb. Fewer that 10 of them are known to still exist.
Parts, parts and parts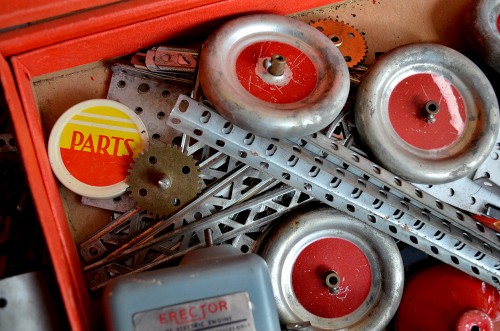 You'll be able to see when you get to the manual how complicated some of the projects were. I don't know how complete my set is today because Dad was known to dip into it when he needed a particular screw or nut for something that needed fixing around the house.
A. C. Gilbert was born February 15, 1884 and died January 18, 1961, Hansen reported. After winning a gold medal in pole vaulting at the 1908 Olympics, he earned his degree in medicine at Yale in New Haven, Connecticut. Instead of practicing medicine or becoming a college athletic director, he started the Mysto Manufacturing Company in 1909. He introduced the Erector set in 1913.
Made for a simpler time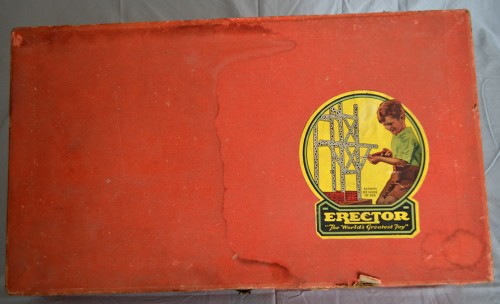 A.C. was a frugal guy. If he found some old spare parts left over that didn't match the current set, he'd throw them in anyway, figuring a 7-14-year-old wouldn't notice the difference. In Gilbert's 1954 biography, he estimated that over 30 million sets had been sold, and sales hadn't reached their peak yet.
Erector sets were widely advertised, but parents back then didn't have to worry about explaining to Little Johnny why he might have to go to the hospital if the project lasted longer than four hours.
Erector set gallery
Click on any image to make it larger, then use your arrow keys to move around.