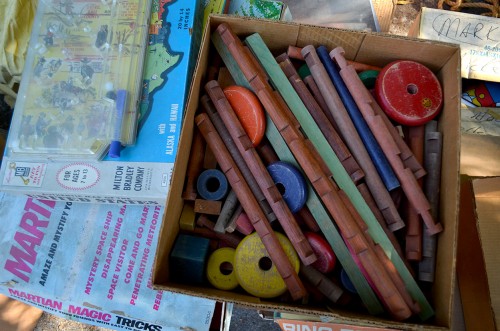 Deep from the bowels of the attic (you're going to hear that phrase a lot) came this box of Lincoln Logs, with some colorful wooden stacking circles mixed in. (Click on the photo to make it larger.)
The construction toy was first produced by John Lloyd Wright, son of Frank Lloyd Wright, in 1916. The Lincoln Log name was registered on August 28, 1923. Several histories speculate that the idea for the logs came when John saw his father building the earthquake-proof Imperial Hotel in Japan. Here's more information from the Chicago Historical Society,
As a side note, Lincoln Logs were one of the first toys to be advertised on television, starting in 1953. The target audience was said to be middle to upper-class families who had a TV in their home and could afford to purchase educational toys for their children.
Perfect for brother-boppin'
The longer pieces, made out of redwood in the old days, were long enough that you could swing them hard enough to get your bother's attention. When we got around to buying a set for our kids in the 1970s, the pieces were shorter, too short to administer a good thumpin.' In fact, for a time, they were made of plastic.
Holy Cowboys and Native Americans!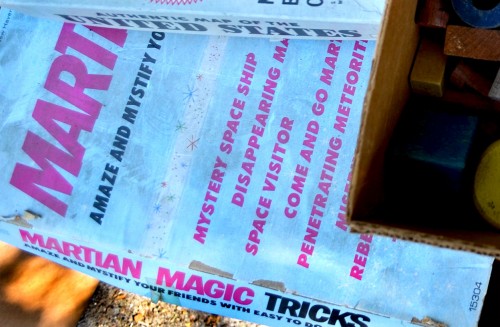 These and other treasures like the Martian Magic Tricks may already be on the shelves at Annie Laurie's Antique Shop in case you're looking for vintage toys.
I just did a quick Google search for the magic trick assortment. It sells for $50 to $200 if it's in good condition. (Knowing my destructive brothers – also a phrase you'll hear often – I doubt that it was in good condition. They probably let all the magic leak out.)