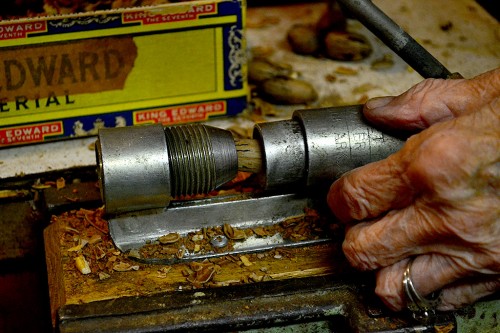 I mentioned the other day that Mother and I picked up pecans in Dutchtown on one of our jaunts. As soon as we got home, she dug out the Rocket Nutcracker that's been cracking Steinhoff pecans for better than half a century. She clamped it in the vise on Dad's workbench and went to digging in the basement food cupboard he built at the height of the Cuban Missile Crisis. Before long she found the very same cigar box and nut pick he used sitting his recliner, watching TV and filling jar after jar with nuts.
Metal fatigue caused handle to break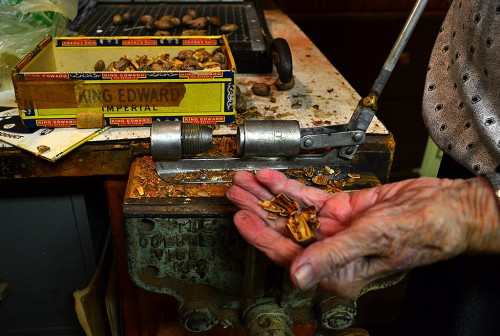 The metal fatigue from cracking thousands of nuts eventually caused the handle to break, but that didn't stop Dad. He just welded the handle back on.
You can buy one that looks just like this one except that it has a wooden handle at the end.
She's ready for more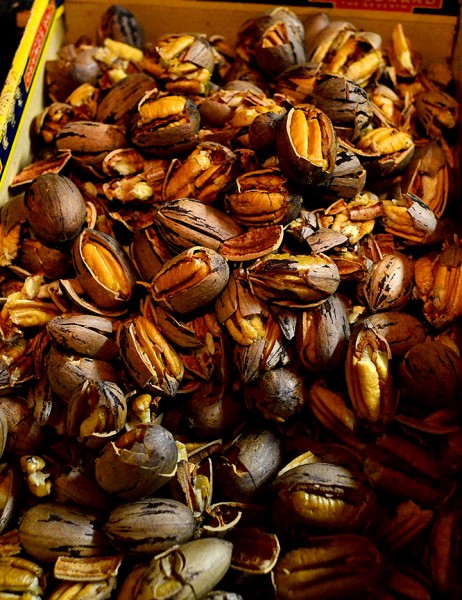 I figured cracking and picking out the nuts would keep her off the street this weekend, but, no, she got them all cracked and picked out in about four days. She's ready to go out picking up more.
Pecan cracking photo gallery
Here's a gallery of photos of Mother hard at work cracking pecans. Click on any image to make it larger, then click on the left or right side to move through the gallery.