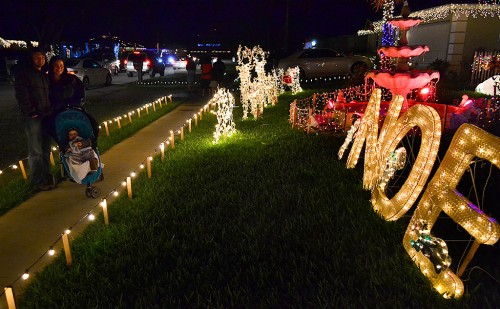 There's a neighborhood around Gabriel Lane, just down the road from us that has been known for its holiday decorations for decades. Wife Lila wanted to walk Grandson Graham through it in his stroller like she had done with our boys.
Unfortunately, she picked the first night of the winter when we were under a Wind Chill Advisory. Temps in the low 50s don't sound cold to you folks who experience wind chills in the negative 50 range, but this is FLORIDA.
Traffic is usually heavy in the neighborhood, so the game plan was for me to drive to a side road where Lila, Adam, Carly, Graham and all the paraphernalia a nearly-two-year-old needs would be off-loaded. When they were through walking around, I'd swing by and load up the survivors.
As it turned out, we found a parking spot close enough that we could all go. That's when I realized that I had dressed to sit in a nice, warm car, not face Arctic blasts. It's hard to hold your camera steady when you're shivering.
Photo gallery of Christmas walk
I shot everything available light (available dark?). From time to time, I'd try to time my shot for when a car headlight would throw some fill onto Graham, but it generally made for an ugly effect. Click on any photo to make it larger, then click on the left or right side of the photo to move through the gallery.
We're getting into a few days when folks are going to be busy with family activities, so I'll probably post some light-weight topics until after the holiday. Since the Mayans didn't get us, our family wishes your family a Merry and a Happy.