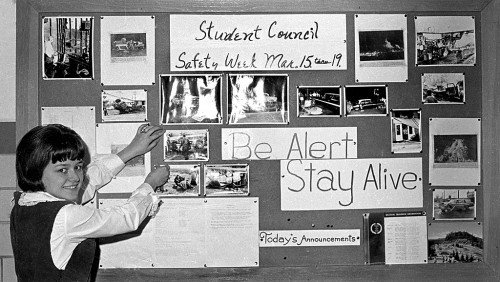 I wasn't going to bother doing anything with this because the negative was scratched up and it was just another bulletin board shot.
When I looked more closely, however, I saw that the Safety Week display Joanne Bone was putting up a collection of spot news photos I had taken of overturned trucks and cars, fires and other Bad Things. What the heck, I always like to show off my work, even it it's too small to see.
Remember the gory movie?
Did you have to sit through the gory traffic safety movie assembly, too? I was probably the only kid who watched it thinking, "Wow, that would have been a lot better if the guy had stepped over there a couple of feet," or "a second light would really have improved that."
Check out the ring
When I enlarged the photo on the screen to touch up some scratches and dust, I got a gander at the size of the ring on Joanne's left hand. Either she bought her class ring super-sized, thinking she might grow into it some day or she was going steady with some big guy. (Clicking on the photo will make the it slightly larger.)