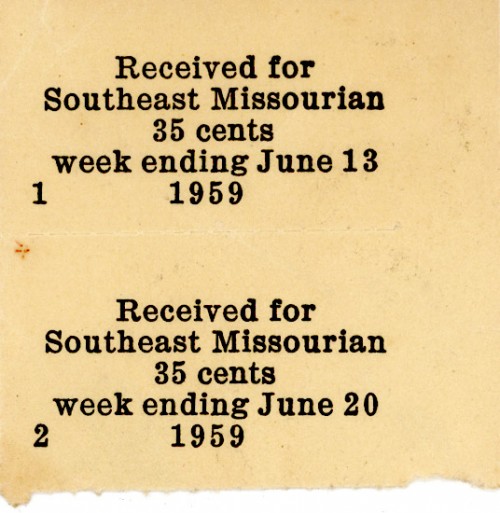 When I started out as a substitute paper carrier making a whopping $2.50 a week, The Missourian cost 30 cents a week, making math easy when I went to collect on Saturdays.
We learned the times-three tables early in grade school, so figuring out 2 x .30 = .60, 3 x .30 = 90, and a month's payment was $1.20 was no challenge.
Then the paper bumped up to 35 cents a week, making math much more difficult. I was not sorry to see the next increase take it to a much more easily multiplied 40 cents a week.
The receipts were issued in pads that were held in collection books like this one.
I hope this fixes it
I've been getting messages from folks saying that the email notification they are getting of new content has been broken. They were right. My best guess is that an automatic security update busticated something. Kid Matt deleted the email program and reinstalled it, so this is a test to see if it's working again.
How much is it today?
I have a digital subscription to The Missourian, but I was curious how much home delivery costs today for someone living in Cape. What cost $1.40 in 1959 goes for $16.95 today.