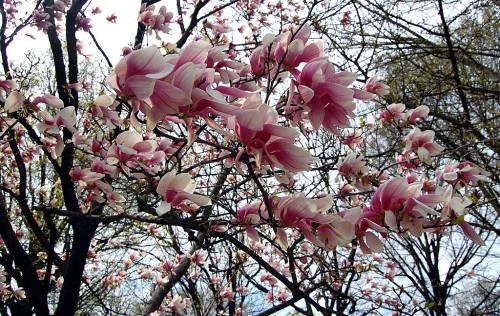 It was a Good Friday, the religious holiday, and it was a Good Friday for Midwesterners looking for nice day after a long winter.
Trees and flowers were blooming and green was popping out all over. Lawn mowers were puttering away in neighborhood yards.
A perfect day for SEMO baseball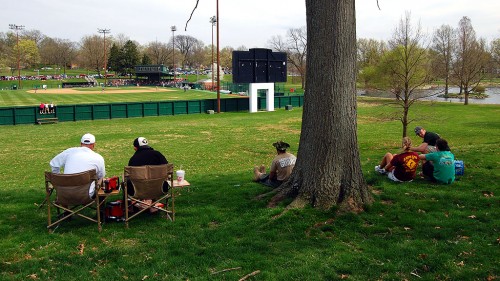 A healthy crowd, many in shorts and T-shirts, turned out to watch a double header between SEMO and Western Kentucky. (SEMO won the first game 17-9 and the second 7-4, if anyone cares). I love the sound of baseball games, but I still haven't gotten used to the "CLINK" of aluminum bats. There's something wrong about it.
Bell & Howell 8mm movies
Late in 1959, Dad brought home a Bell & Howell 8mm movie camera outfit. In the days before Super-8, 8mm cameras actually used 16mm film. You'd shoot the first half of the roll, open up the camera, flip the film over and shoot the rest of your movie on the other half of the film. The processor would develop it, split it down the middle and splice the two 25-foot lengths into one 50-footer.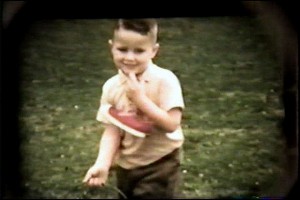 This wasn't an ideal setup. First off, it was easy to fog the film when you were doing the open-the-camera, rethread-the-film operation. Then, when you went to project it, only one side of the film had sprockets to pull it through the projector. That made it easy for the film to slip off. If you didn't get to it in time, the heat from the projector bulb would burn a hole right through the film.
Brother Mark took on the task of converting the 8mm film to VHS tapes ab0ut 15 years ago. It wasn't a high tech solution. I think he mostly took a picture of a moving picture. I didn't complain. At least, I didn't have to do it.
With VHS going the way of 8mm, I got a good deal on a VCR that outputs to a computer USB port. Considering that the original film quality wasn't great to begin with, and that Mark's copy didn't improve things, the digital result is acceptable if you don't mind fuzzy, blow-out images.
I say that to lower expectations.
Here's an Easter Egg Hunt on Cherry Hill
Bro Mark appears in these pictures along with his Trinity Lutheran School kindergarten teacher, Mrs. Tickel, so Mother and I are guessing that this video was taken around 1961. Mark is the cute kid who can't seem to keep his shoes on. The Capaha Park Band Shell is in a few frames.
Spring makes you forget winter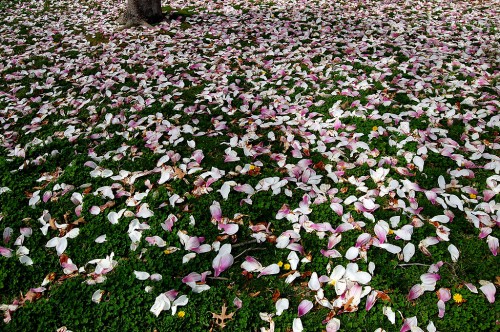 Since we normally come home in October to celebrate my mother's Birthday Season, we get to see the fall colors. I had forgotten how much I loved seeing the countryside come to life in the spring. It almost makes you forget those gray, gloomy days.
Almost.