Ware Cemetery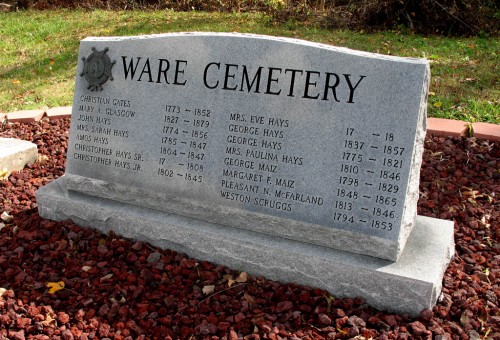 My mother and I were coming back from one of my many visits to Wib's BBQ when the light at the Fruitland Intersection caught us. Mother looked out her side and said, "Wonder what those markers are?"
You have to understand that's really Mother-speak for, "pull the car over, hop out in the cold wind, take a look and bring back a full report." After 60+ years, I've become pretty fluent in Mother-speak. (Well, sometimes. If it involves plumbing, I pretend not to hear.)
There's not much to see at Exit #105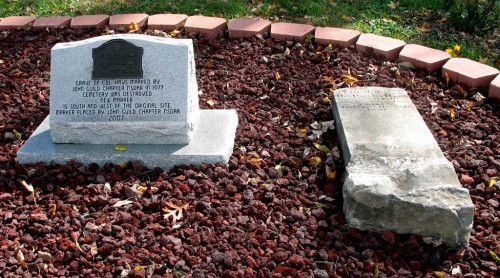 When I don't know where else to turn, I fire up the Google News Archives of The Southeast Missourian's microfiche records. The May 24, 2000, Letters to the Editor filled in some details.
The writer said that a small cemetery was razed to make the southbound entrance ramp to I-55 (the one we were stopped at). It's hard to believe, but the letter said the tombstones were discarded.
Ware Cemetery contains the remains of at least 15 people, including Col. Christopher Hays, a Revolutionary War soldier who served with General George Washington. Col. Hays was also a member of the panel of judges who laid out the city of Cape Girardeau.
It's Ernie Chiles' wife
When I got down to the bottom of the letter, I was surprised to see that it was signed by Mrs. Ernest (Patty) Chiles, the wife of my old Central High School Earth Science teacher, Ernie Chiles. (He wasn't an "old" Earth Science teacher when I had him in school. He wasn't but a handful of years older than I was at the time. Maybe I should refer to him as my "former" Earth Science teacher.)
If you haven't been reading this blog for very long, you probably missed my account of Ernie and the Rock of the Month Club. And, here's what the new, old Ernie looks like.
Google Map showing Ware Cemetery

View Monument for Ware Cemetery in a larger map