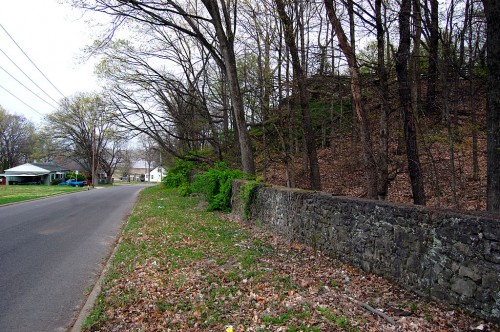 I'd like to know the history behind this stone wall running along the south side of Park Drive between Spanish and Fountain. It looks like it's been there quite a few years.
This stretch of road was the scene of a traffic fatality Aug. 29, 1959, which broke a fatality-free record of almost two years. A car went out of control on the curve and overturned at 11:30 p.m. in the 300 block of Park Drive. A 14-year-old boy died of injuries sustained in the wreck.
You can read more about the crash here.
The Missourian story points out that Park Drive is also known as North Street. It said the scene of the accident was in the block between Fountain and Spanish "where the old city dump was located, almost directly across from the cliff on the top of which stands the home of O.G. Walker." I'm assuming the dump was located where Missouri Park is today, just below Old Lorimier Cemetery.
Old retaining wall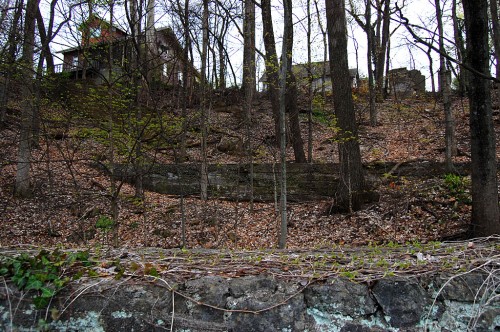 If you look south from the stone wall, there is a steep hill with a concrete retaining wall about a third of the way up it.
N. Lorimier – W. Lorimier – Rivermont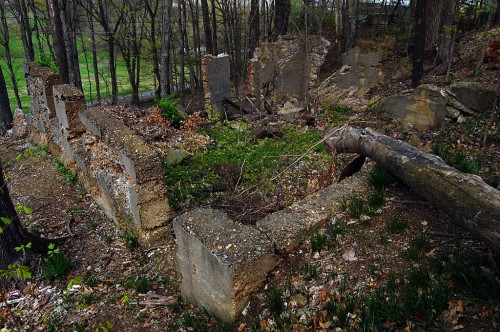 From the top of the hill, there is a curious street layout. You get there by going north on North Lorimier until it deadends at the T-intersection of West Lorimier and Rivermont Drive. It's not often the you run into an intersecting north and west street with the same name.
If you look over the hill on the Rivermont side of the intersection, you can see the crumbling remains of an old foundation. I don't know if it was the O.G. Walker home mentioned in the news story or not.
Spectacular view – of old dump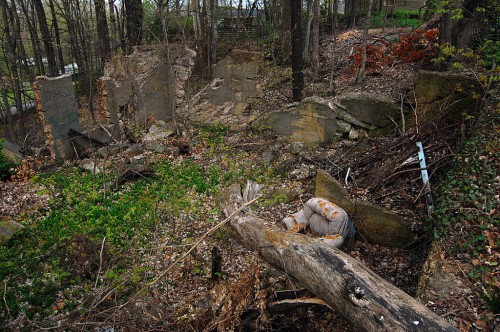 What must have been a basement is becoming a catch-all for trash, brush and some small saplings. In its day, it must have had a fairly spectacular view – of the city dump.
It's odd that there would be a city dump right below the Old Lorimier Cemetery. I wonder if it came before or after the dump that was located in Happy Hollow, south of Good Hope.
Does anyone know the history of the stone wall or anything about this building on Rivermont Drive?