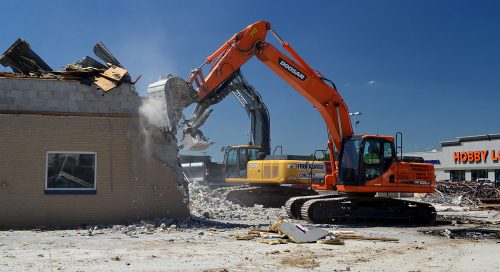 Wow, you leave town for a couple of weeks and stuff disappears all over the place. I caught these three business landmarks being erased in the South Kingshighway shopping center south of William Street.
It's all part of a plan to expand Hobby Lobby and to create a driveway to access the center off William.
The first building to be attacked was the EZ Express Carwash on the corner. I don't think my vehicles ever passed through there, but that's because I consider dust to be a paint protector. You can click the photos to make them larger.
Pizza Hut being nibbled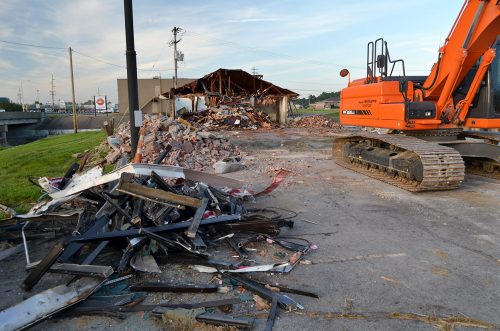 The only memory I have of the Pizza Hut is when one night I pulled there in just as a guy pitched a bunch of fast food debris out his car window. Putting on my most benign, helpful face, I tapped on his window, handed him his junk and said, "Excuse me, sir. I think you may have dropped these." He was so flummoxed he not only took the bags, but he thanked me.
China Town Buffet moved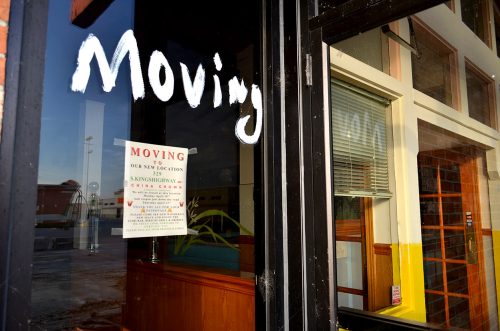 A sign in the window said the business was going to move to 329 S. Kingshighway under a new name – the China Crown.
I found this blurb on a real estate site: "China Town Buffet plans to eventually move a block south of their present location according to Tom Kelsey, commercial broker with Lorimont Place, Ltd. Kelsey said his company recently brokered the sale of the former Pagoda Gardens property at 329 S. Kingshighway to Jerry Feng, owner of China Town Grill Buffet, currently operating at 213 S. Kingshighway.
"The former Pagoda restaurant operated at the location since 1987 and closed in 2014 when the owner Sam Prasanphanich retired from the restaurant business after 30 years. Ironically, Pagoda was the first restaurant in the Southeast Missouri area to offer a Chinese buffet. Feng and his family will carry on the Chinese buffet concept at their new location. The Lorimont broker understands the new buyers will make significant renovations both inside and out at the former restaurant building and this most likely will involve several months of construction before they relocate and begin operations there. No sales price was disclosed, but the Lorimont Place website lists the property price at $619,900."
Gallery of vanishing businesses
Click on any photo to make it larger, then use your arrow keys to navigate around.