By the time you read this, I should be half-way back to West Palm Beach. I started to type "half-way home," but that wouldn't be exactly true.

I've told the story about being stopped at a roadblock near Dutchtown a few years back. A Missouri Highway Patrol officer politely asked for my license and registration. "Florida," he said. "You're a long way from home, aren't you?"
"No, sir," I replied honestly. "When I'm in FLORIDA, I'm a long way from home.
My brother Mark collects all kinds of stuff. One of his treasures is this mileage chart that used to hang in a service station back when they were more than places that pumped gas and sold you beer and lottery tickets.
You'll notice that the chart shows the distance to places as close as Sikeston (33 miles) and as far away as San Francisco (2,195 miles); it has Illinois, Tennessee, Nevada, New York, Arkansas, Texas and Michigan.
What's missing?
Florida
The sign maker must have deduced that there was no reason a self-respecting Missouri Boy would ever need to go to Florida.
There's something to be said for that.
The past month I've spent in Cape has made me appreciate this area more than I ever expected. It's the most fun I've had running around shooting photos and connecting with folks since my old Athens, OH, days when I was doing daily photo essays.
I have such a backlog of new material I don't even know where to start. Folks have been exceedingly kind to open their homes, their scrapbooks, their libraries and to share their stories.
I've had accidental encounters with classmates I haven't seen since 7th grade at Trinity Lutheran School (Patti Haas, who no longer wears pigtails), and a fellow I gave my business card to 30 years ago.
I haven't downloaded my GPS track from this trip, but I filled up my gas tank at least three times once I got here, so I've driven almost as many miles AROUND Cape as I did to get here.
Mother was my "spotter"
My "spotter" for most of those miles was my mother, Mary Steinhoff. She's always up for an adventure, so all I had to do was rattle the keys and she was headed for the door.
She'd point out birds in nests, old country cemeteries with tombstones barely peeking above the brush and she didn't flinch when I'd drive right past signs reading, "Road Closed – Under Water."
She kept up a running commentary about people, places and things throughout the whole trip. She didn't complain when I'd leave her sitting in the car while I was engrossed in a conversation with someone or trying for "one more" photo.
When I'd get back, she'd ask me, "Did you find out X?" or "did you ask her Y?" She'd have made a great editor because she could always come up with a question I wish I had asked.
She also took with good grace the yarn my brother used to spin about her arm. "You had to go and tell everyone about that? It's bad enough that close friends and family have heard the story. Now EVERYONE has heard it."
She misses the toothbrush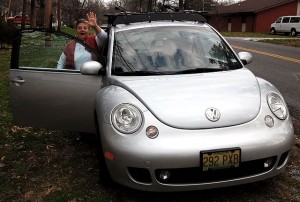 After we had already extended our Cape stay by a week, long-suffering Wife Lila decided to fly back to Florida so she could get back to work. When she hopped into Mark's car to catch a flight out of St. Louis, she (nor I) knew that I'd be here almost two additional weeks.
I knew where I stood when I got an email message from her saying that she missed the electric toothbrush she had left with me.

Advertising was a disappointment
One of my goals was to find some advertisers or sponsors for the site. I was convinced that this would be a good vehicle for someone. When I prepared my sales materials in the middle of March, the site had about 4,000 visits per months and 155 subscribers. This morning, it was 6,694 visits and 218 subscribers. Those are good numbers for a niche blog only six months old.
Unfortunately, I wasn't able to connect with anyone. Some folks read and loved it, but didn't have any money; others didn't bother to even return my email. This area is a little behind the Internet curve: many businesses don't have a web presence that I could direct a link to, even if they WANTED to advertise.
Love or money
I learned a long time ago that you can either work for love or for money, rarely both. Looks like I'm working for love until I come up with a better business model.
Photo blogging takes lots of gadgets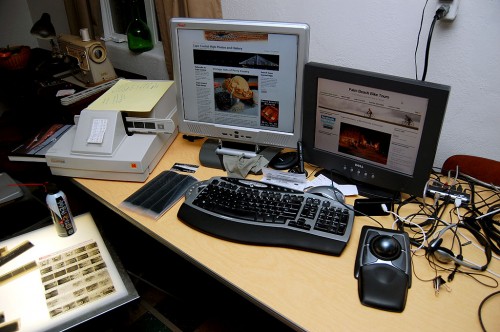 If things are a little light for a few days, it's because I have to unpack and set all this equipment back up when I get to West Palm Beach. You don't realize how many wires are involved until you see them spread out all over the desktop.