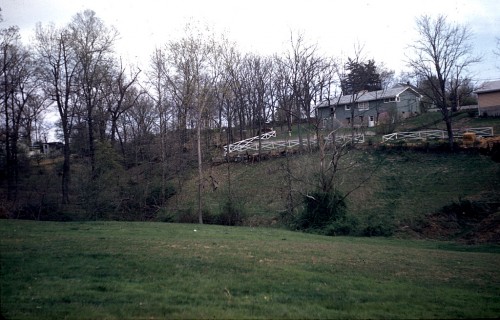 When we moved to 1618 Kingsway Drive, we were outside the city limits.  That's our green house with the white wooden fence around it in the spring of 1962. The back yard dropped down steeply, so Dad trucked in load after load of dirt and built a retaining wall to create two levels. The bottom half we called the "garden" because we it was planted in veggies. Click on the photos to make them larger.
Cows and horses for neighbors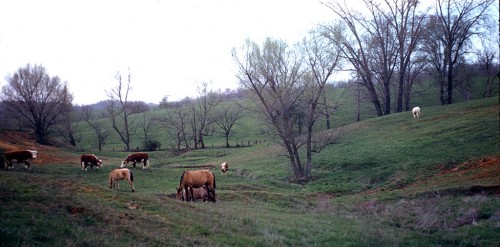 The cool thing for a kid was that our neighbors at the bottom of Kingsway, the Hales, kept horses and cows in the pasture behind us. Mr. Hale gave me the OK to roam around all over his fields and to pitch a tent on the hill opposite our house from time to time.
Hills drained into gully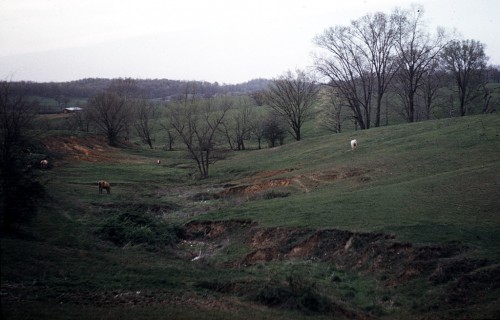 The surrounding hills all drained into a deep gully that eventually fed into Cape LaCroix Creek (we always called it 3-Mile Creek). I never did too much exploring of the deep gully right behind the house. The walls were steep and covered with brambles. They looked like the kind of place where you'd encounter way more snakes than I cared to see. (That would be one snake, to set the record straight.)
Most of the livestock was pretty gentle, but one of the fields had a bull or two that I tried to avoid. I spent some time up a tree once when one of them took more interest in me than I wanted to take in him.
Don't look AT the cowpies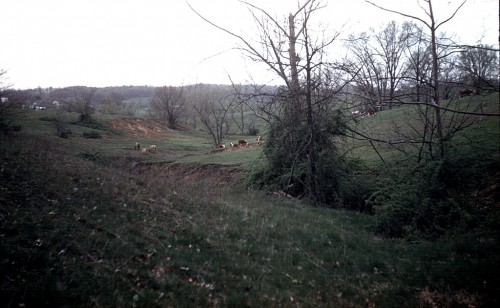 The Hale fields were where I learned the technique of picking my way through cowpies. The key is not to look at the steaming pile; to navigate through, you look at where there ISN'T a steaming pile. That technique has helped me avoid flats on my bike: don't look at the object you're trying to avoid – look for the open space.
Houses replaced horses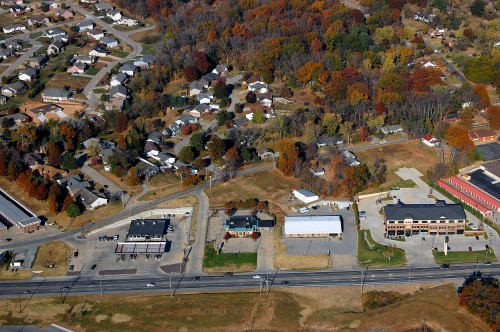 The cows and horses are long gone. Houses have sprouted up where I used to pitch my tent. What's interesting is that the gully behind our house is still there and running wild. Houses were built on the hill north of it, but the bottom lands have been left pretty much untouched. The way the streets were laid out, I don't see how that area could ever be developed. Here are aerial photos of the Kingsway / Kurre Lane area from the 1960s.
Some of the houses have taken the time to keep the area behind their homes clean and mowed, but the spot behind us is as unruly as ever and must be a great habitat for wildlife.
That brings up something else. We never saw deer in the fields when I was a kid, but Mother will have one cut across the yard from time to time now that the hills have been developed.