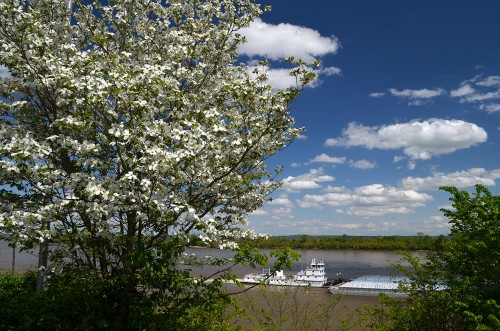 No trip to Cape is complete without at least one trip to Cape Rock. I got there just as the M/V Thomas K was pushing a string of barges south. Click on the photos to make them larger.
Thomas K was once Kay A. Eckstein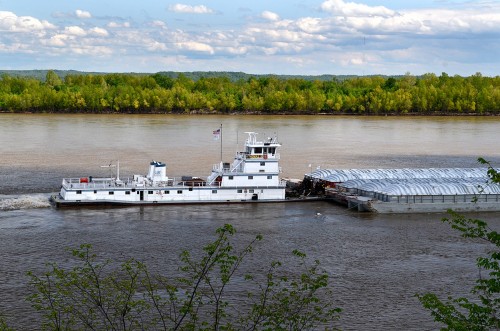 Dick's Towboat Gallery reports that the Thomas K was originally named the Kay A. Eckstein when she was built in 1982. The name was changed in March 1989.
Shipwrecklog reports that the Kay A. Eckstein lost 16 of the 30 barges she was pushing on the Mississippi River near Vicksburg March 23, 2011, when she struck a railroad bridge when the river was flooding. The story is a bit confusing because the first site said the name changed BEFORE 2011.
One Kay A. Eckstein became reef
There may have been more than one Kay A. Eckstein. A report by the Mississippi Department of Marine Resources and Mississippi Gulf Fishing Banks, Inc., said that "On May 23 1999 an engine room fire erupted on the Kay A. Eckstein. The vessel was proceeding upriver in the Mississippi River, near St. Francisville, La., pushing 29 barges. All 10 crewmembers aboard the vessel were safely evacuated. Due to the 40,000 gallons of diesel fuel on board at the time of the incident, the fire continued for 12 hours, and the vessel sank near the bank of the river as a result of the water burden created during fire-fighting. The vessel was re-floated, and after completing an investigation into the circumstances surrounding the fire, Marquette Transportation agreed to fund the expense associated with cleaning and preparing the hull as a reef donation and the cost of transporting the vessel to the deployment site."
On May 20, 2005, the vessel was sunk to become a fishing reef after the wheel house was cut off to keep it from becoming a hazard in the shallow water.