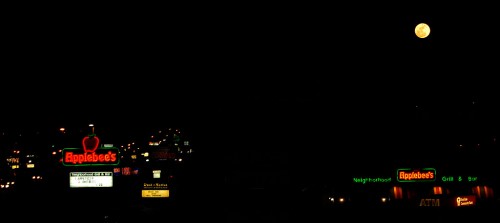 I work out of a Domke shooting vest instead of a camera bag. I find it puts everything where I can find it by feel, distributes weight better than a bag, is easier to maneuver in tight spaces and is less likely to get stolen than a bag you set down "just for a minute."  A digital camera with a zoom lens has cut back on the amount of gear I hump around. I used to carry at least three camera bodies and five lenses, plus about 20 rolls of various types of film, not including all the small accessories.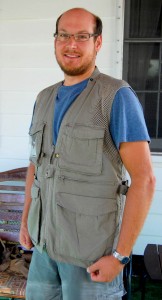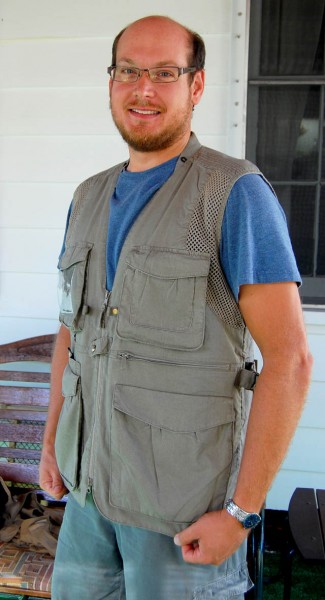 My vest holds my Canon FS-100 video camera; a strobe; a polarizing filter (or UV filter, depending on what I'm using that day); some business cards; a digital tape recorder and lapel mike; spare batteries; a can of pepper spray; a lens cleaning cloth; a small LED flashlight and a few other odds and ends depending on the kind of shooting I plan to do.
On the way out to dinner with Mother Monday night, I grabbed my Nikon D-40 DSLR camera, but forgot to pick up the vest. I shrugged it off. I wasn't really planning on shooting video anyway and the camera has a small flash built in.
WOW! Look at that moon!
When we came out of Ruby Tuesday and turned east on William, the first thing we saw was a monster moon.
I've got a thing for shooting moon pictures. I even lead bicycle Full Moon Rides on the Lake Okeechobee Scenic Trail where the moonlight is so bright that we don't even need headlights to see our way (no motor vehicles allowed and there's nobody there but us, the gators and the mosquitoes).
Something strange always happen. Sometimes a rider does the Frog Dance; on another trip, I thought I'd have to perform a buttectomy.
Even Wife Lila is moonstruck. She tries to make it to the beach for the Lake Worth Full Moon Drum Circle every month. Even when it rains, it's good.
Oh, no, I don't have the video camera
When I pulled off the road to shoot the moon photo above, I realized that I  didn't have my video camera. The FS-100 has a longer effective zoom lens than my still camera. It was going to take that extra magnification to bring the moon in closer to my surroundings.
I banged off a few frames with some restaurant signs in the foreground, then made a mad dash for some downtown landmarks.
You can't outrun Motorola or the moon
Cops used to have a saying, "You can't outrun Motorola," their two-way radios. I learned in high school that you can't outrun the moon, either.
One night I spotted a moon like this one just cracking the horizon. I KNEW if I got to Cape Rock there would be a great photo. Good thing there weren't any cops on the road that night. I bent every speed law between here and there, but still got to Cape Rock too late to catch the shot I really wanted.
I knew the same thing was going to happen to me again, but I had to give it a try.
Moon rising over Bill Emerson Memorial Bridge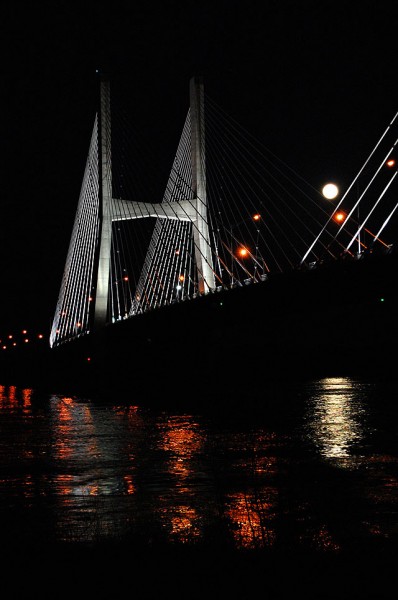 I KNOW I promised a moratorium on photos of the bridge, but this was the only landmark I could find that I could get in the foreground with the moon before it got so high it became a tiny dot. As it is, it looks like something made by an undernourished paper punch.
Sorry.