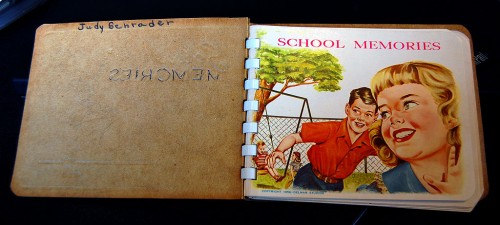 When I was in town this spring, my brother, Mark, and I met up with Jayne and Judy Schrader. Judy was in my class, and Jayne was Mark's age. (He said he remembered her as a "good egg."
[Note: I have a hard enough time remembering who folks are, so you'll notice that I usually refer to women by their maiden names. Wife Lila's yearbook is full of scrawled name changes from the days when she tried to keep track, but even she gave up.]
I still have Judy's Valentine's Day card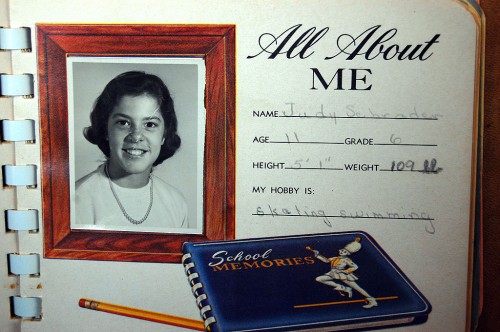 I posted photos of Valentine's Day cards from Judy and others earlier this year. Judy must have a time capsule like my Mother's attic, because she brought along our Trinity Lutheran School Kindergarten Graduation picture (with names written on the back) and her 6th Grade School Memories Book.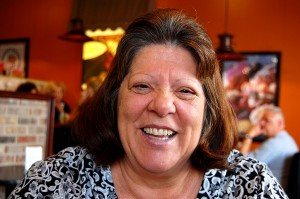 Judy, Age 11, Grade 6, lists her hobbies as skating and swimming. I don't know about the swimming part, but she and I spent a lot of Friday nights at Hanover Skating Rink. You couldn't exactly call us an item, but we DID hold hands when we skated. Of course, we didn't do any of that mushy kind of close skating. I liked her because she liked to skate fast.
Hanover wasn't fancy
Hanover wasn't a fancy rink like MaryAnn's. The floors were dirty, even on a good night. If it rained, the roof leaked and you had to dodge puddles. If you didn't have your own shoe skates, you rented heavy metal skates that clipped onto your street shoes. They could unclip just as easily, leaving the skate dangling from your ankle by a leather strap.
Judy's Favorite Classmates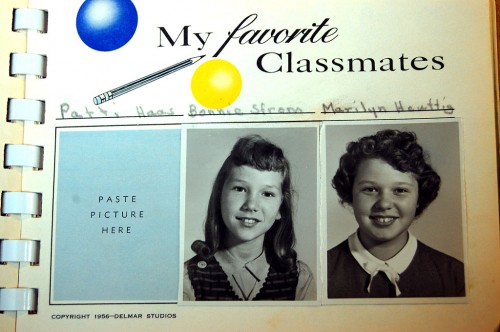 Judy listed her favorite classmates as Patti Haas, Bonnie Strom and Marilyn Heuttig. She has photos of Bonnie and Marilyn, but Patti must have had an inkling even back that far that she would end up in a witness protection program and made sure she didn't leave any images behind.
[Note: Patti is alive and well. In fact, she stopped by my mother's house in March and we spent a couple hours laughing and talking just like we were back in grade school. She no longer wears her hair in pigtails, though. She also told me that the statute of limitations on the Tunnel of Love Valentine she sent me card had long expired.]
Cheerleaders showing just a little too much leg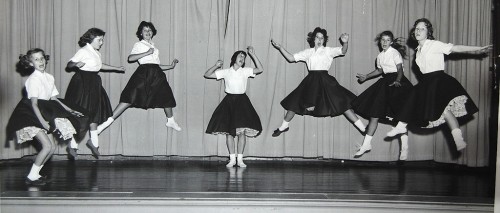 I don't ever recall seeing this photo of the Trinity Lutheran School cheerleaders. I suspect it showed too much leg for the principal.
THIS is how Lutheran cheerleaders should look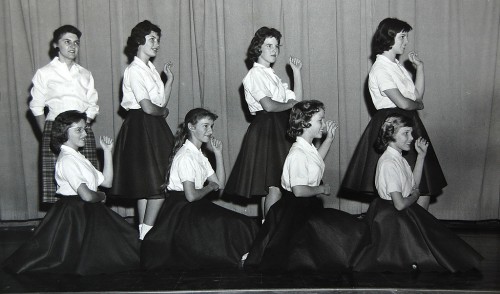 It's unseemly to have girls cavorting about. They should be able to just WILL their teams to victory with a subtle hand gesture. This is, you will note, a non-cavorting photo that was suitable to run in the 1961 school yearbook. Each dress contained enough material to construct a six-man tent in case of a Civil Defense emergency.
By 1966 skirts had reached the knee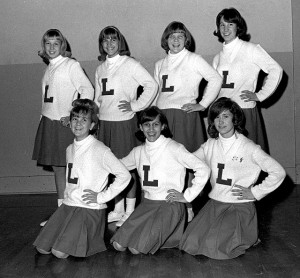 By the time I shot the cheerleaders in 1966, skirts had moved from mid-calf to just about knee level, but the cheerleaders were still firmly planted on the floor.
I don't remember much emphasis on athletics at Trinity. We played ball at recess and I know we had school teams, but I don't recall ever going to any games against other schools.
In the last few years, though, the school has added a state-of-the-art gym to the school. One of these days I'll run a collection of new and old Trinity Lutheran School pix and you'll be able to see it.
Kindergarten Graduation

Trinity made a big dead out of Kindergarten and Eighth Grade graduations. Here's Judy's photo of our Kindergarten graduation. The well-behaved cherub on the front row, left, is me.
Our names are on the back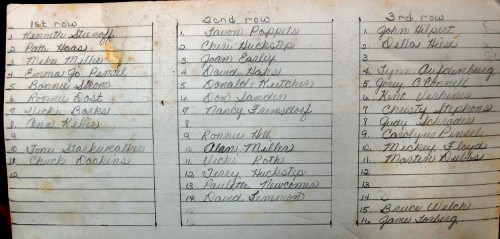 If you don't believe that's me, check out the IDs written on the back of the print. OK, my name is REALLY Steinhoff, not Stienoff, but that's close enough.