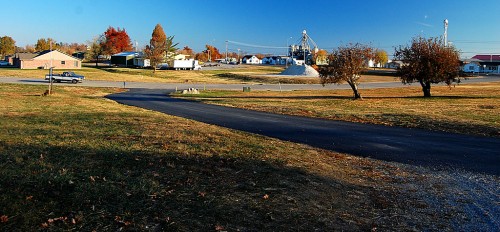 I wrote last time about the apparent demise of the Pioneer Orchard west of Jackson. I reported that the only things I could popping up out of the ground where we once bought peaches, apples and cider were ironically name street signs.
Janet Fenimore Robert took me to task
I don't think you went far enough!! I never go that way but Pioneer Orchard is still going strong. Also there are big trees on Oak, haven't noticed their type but I will from now on. Are you sure you were in Jackson, Mo???????
Show me the trees

View Site of Old Pioneer Orchard near Jackson in a larger map
My mother and my wife generally tell me that I've gone too far, but Janet caused me to doubt myself, so I pulled up Google Earth to look at the area. There may be a few trees scattered around, but it's not the orchard I remember. (Zoom in to see more detail.)