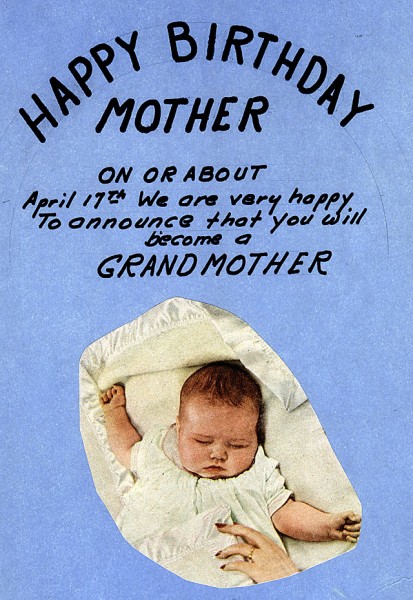 The Steinhoff Family tends to make a big production out of everything, which should have been evident from the Christmas photos I posted.
I was looking in my closet and found the baby scrapbook my parents had put together. There's a treasure trove of stuff in it that I had long forgotten.
When it came time to announce my impending arrival, my folks presented maternal grandmother-to-be,  Elsie Welch, a series of nine envelopes, ending with the one at the top of the page.
Operating on "ish" time
There was one slight error. They were predicting that I would arrive on April 17, which would have been Dad's birthday. You note that they said, "on or about." Even before I was born, I was operating on "ish" time. And, for the first – and probably only – time in my life, I showed up early to an event. I was born on March 24, not April 17.
Photo gallery of the Nine Envelopes
Click on any image to make it large enough to read, then click on the left or right side of the photo to move through the gallery. (By the way, they didn't have spell checkers in those days.) Also, by the way, Son Adam and Carly are expecting their first child, and our second grandchild, in February-ish.