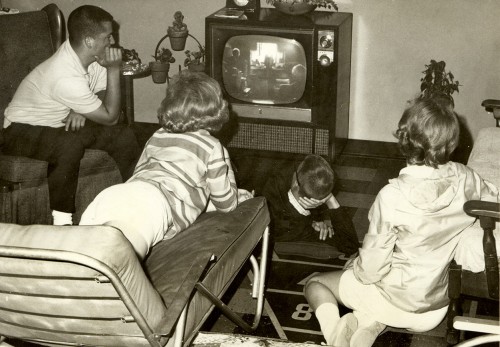 There are some things I know about this photo, and a lot of stuff I don't know.
What I think I know
It was taken in the Steinhoff family basement.
That's our Zenith television. You can see the antenna rotor control on the top left of the set.
We're probably watching KFVS because the picture looks reasonably sharp.
I'm pretty sure that's Albert Underwood on the left, Bill Hopkins on the floor and Linda Folsom on the right.
It's probably 1963 or 1964.
What I don't know
Who the girl on the left is. I sort of want to say Margaret Randol, based on the hairstyle, but that's a wild guess.
Why they are watching TV at my house. Underwood was a year or more ahead of me and was on the school's photo staff, but we didn't run around together. Hopkins was the ineffective (or corrupt) campaign manager who handled / mishandled my unsuccessful student body presidential run. Linda Folsom and I dated briefly (her choice). It's a strange combination of people to be engrossed in a TV show.
What they are watching so intently. It doesn't appear to be a news program.