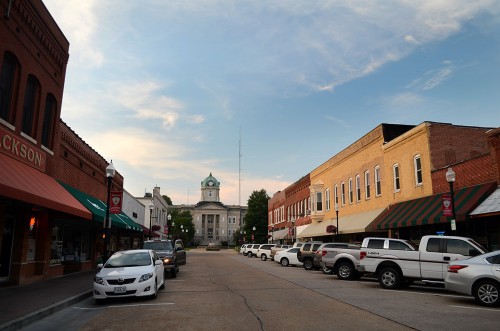 Buddy Jim Stone, still vibrating from excitement after chasing a huge magnet up the Mississippi River yesterday rousted me out of bed to go to breakfast Thursday morning. I took him to the Pie Bird in Fruitland.
I got some work done in the afternoon and hooked up with him for dinner. He was in a dead cow mood, but didn't want to go to the chain steak joints around the I-55 / mall area.
We headed to Tractors Classic American Grill in downtown Jackson. Not a lot of stores were open, but the street had plenty of cars and trucks parked on it. (Watch out when you open your passenger side door: the curb is high enough that Jim smashed my car door into it. Twice. Once in, and once on the way out. I think it was the scientist in him. He wanted to prove the event was reproducible.)
Good service, decent food
I was pleasantly surprised to find they have a non-smoking area that was more smoke-free than my last visit several years ago. Our waitress was friendly, helpful and attentive. My medium steak was a little overcooked, but not enough to send back. Everything else, including a fresh strawberry pie, was excellent.
After a number of glasses of wine, Jim volunteered to pick up the check.
I think he's going to use my photos to prove this was a business trip. He was going on and on about how he was prepared to take the bullet if anyone on the riverbank took a potshot at his magnet.
Then, he went and banged my car door on the curb again.