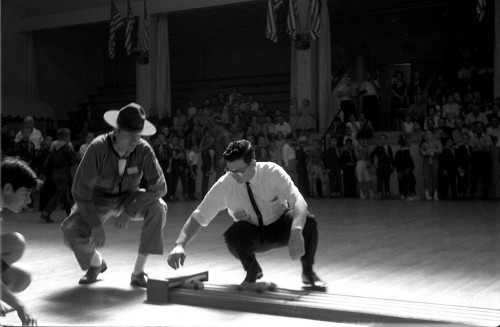 Virtual buddy Missourian photographer Fred Lynch dredged up a Frony photo of square dancing in the Arena Building from the 50s.
I have a variety of photos from the park, but these of Cub Scout activities were the first that bubbled to the top of the pile. I think the Scout leader sporting the drill instructor's campaign hat is Rich Renfro.
The flags in the background look like the same ones in Frony's picture. I wonder if they're still there. They could have been 48-star flags in those days.
Game with wheel and stick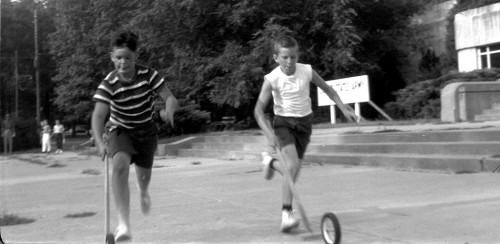 Outside the Arena Building, there was some kind of competition involving rolling a wheel with a stick.
How you hold your tongue is important
Pinewood Derby Gallery
Time has not been kind to these negatives, but I'll throw them out here anyway. Click on any photo to make it larger, then click on the left or right side of the image to move through the gallery.