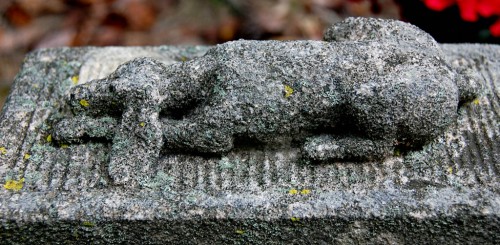 I've spent a lot of time wandering through old cemeteries and graveyards. You can tell a lot about a community by the way it takes care of its dead. You can get a feel for who the prominent families were and be amused by some of the tombstone inscriptions.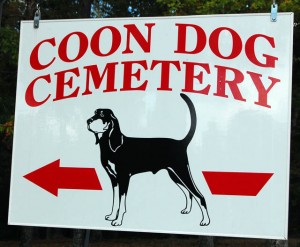 I get a lump in my throat when I get to the sections set aside for kids, particularly in the older cemeteries where some of the homemade markers incorporate the child's marbles or jacks.
When the kids were little, we took off cross-country and made a detour to see the Key Underwood Coon Dog Memorial Graveyard just outside Tuscambia, Al. Follow the link to see more markers like High Pockets, above, and read an account of a misunderstanding that could only happen out in the country.
Cape Girardeau's Cedar Hills Pet Cemetery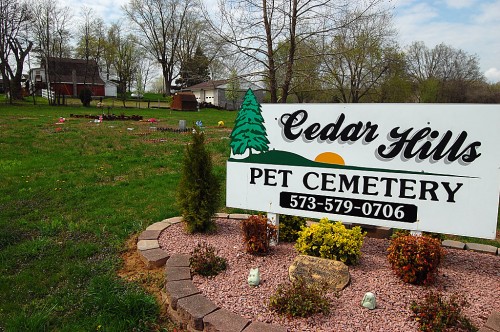 If I'd traipse all over Alabama, surely I'd pull off Big Bend Rd. to take a look at the Cedar Hills Pet Cemetery in Cape. It's a bit plain looking, but it's neatly kept.
The Coon dog Cemetery (originally called Graveyard), was founded in 1937, when Key Underwood buried Troop, so it's had a lot more time to get that old-time feeling. The Cape cemetery is only about a couple decades old.
Only coon dogs allowed in Coon Dog Cemetery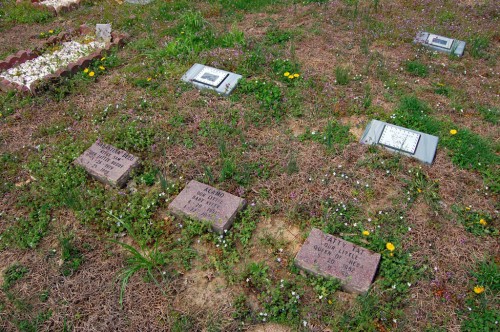 Another big difference is that the Cedar Hills Pet Cemetery appears not to discriminate. They'll even take, god forbid, cats. [Editor's note: that was meant tongue-in-cheek. Our back yard is so full of cats that I don't know where we'll plant the next one when the time comes.]
The Alabama site has strict rules:  "A dog can't run no deer, possum — nothing like that. He's got to be a straight coon dog, and he's got to be full hound. Couldn't be a mixed up breed dog, a house dog."
Cremations, urns and caskets
Cedar Hill's website says they offer a full range of products and services. A crematory was supposed to open in Spring of 2010, to handle the 75% of services that involve cremations these days. They'll also sell you urns or caskets for your pet.
The Missourian's Bridget DiCosmo did a story about Cedar Hills in 2009.
Gallery of Cedar Hill Pet Cemetery Photos
Click on any photo to enlarge it, then click on the left or right side of the image to move through the gallery.