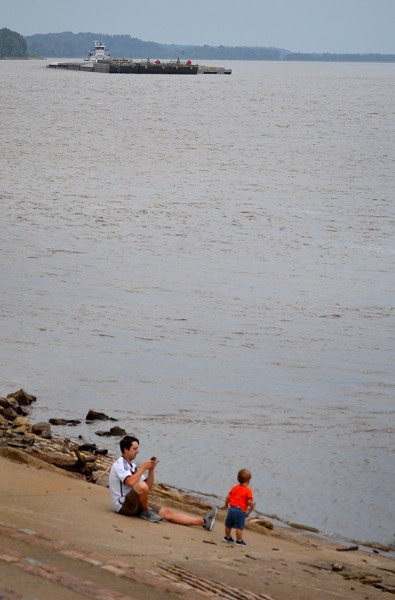 I was headed over to the Emerson Memorial Bridge to work on an illustration for a Bill Hopkins mystery book still in the plotting stage. There was time for a quick visit to the riverfront. In the distance, I could see a toddler about the age of my Grandson Elliot throwing sticks and rocks in the Mississippi while being photographed by Dad.
Checking out the video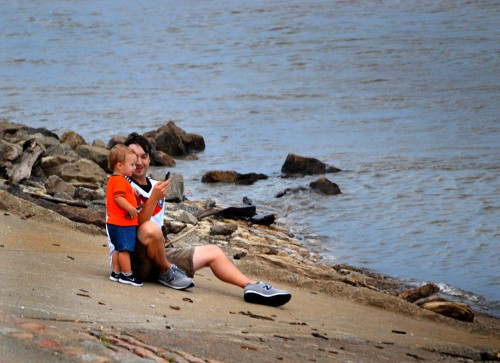 Amazing how kids that young can understand the workings of smart phones and tablets. He is obviously enjoying seeing himself. (Click on the photos to make them larger.)
Loud moving things are trains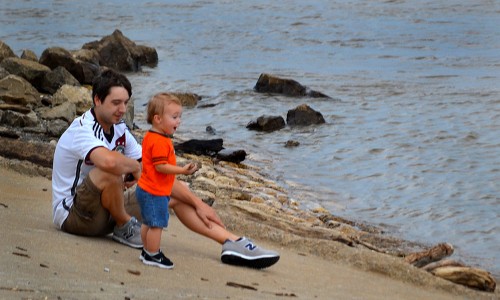 After watching for a few minutes, I walked over to meet Carson, age 18 months, and his dad, Brad. Brad has lived in Cape most of his 33 years and loves to fish on the river. While we were talking, the barge came close enough that Carson heard the noise of the engines and started saying, "Train, Train!"
Time to explore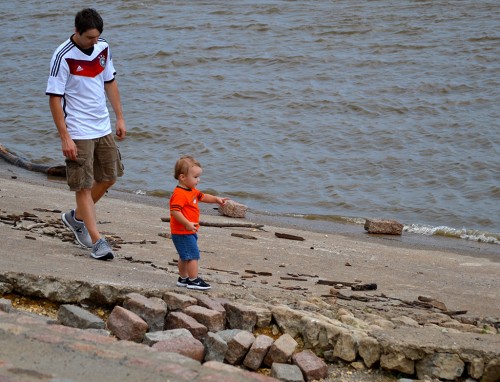 Before long, it was time to explore a new section of the riverfront.
More splashes needed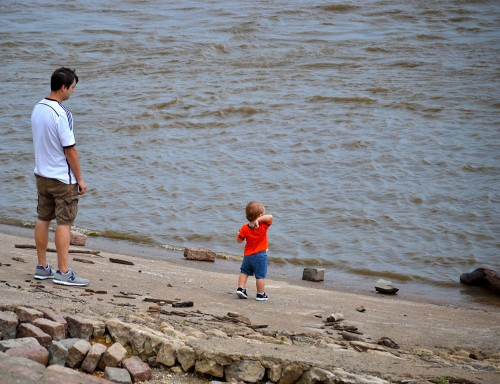 Watching Carson pitch things reminded me of the boys skipping rocks with the old traffic bridge in the background in 1966, and the Duncan kids of Kennett learning the fine art of skipping from a stranger in 2011.
Toddlers are back-loaded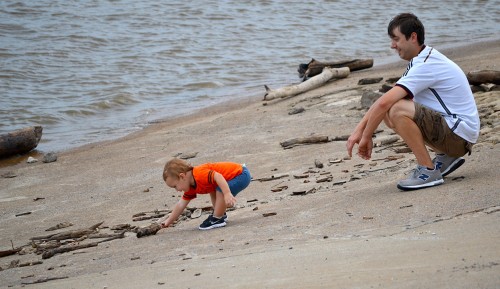 When I first saw Carson bending over facing the steep downgrade to the water, I was afraid he could tumble forward and keep on rolling until he ended up in New Orleans in a few days. (Dad was keeping a close eye on him, not to worry.)
When I got closer, though, I remembered how back-loaded toddlers are. Their center of gravity is well behind them, particularly if that diaper is full.
Telling him all about it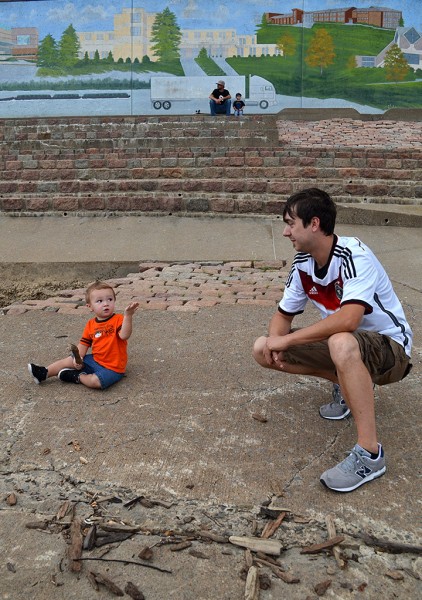 It was just about time to leave, so Carson was telling his dad all about his adventures. Another man and boy are content to sit in front of the floodwall mural watching the action.
You can't beat the riverfront at the end of the day.