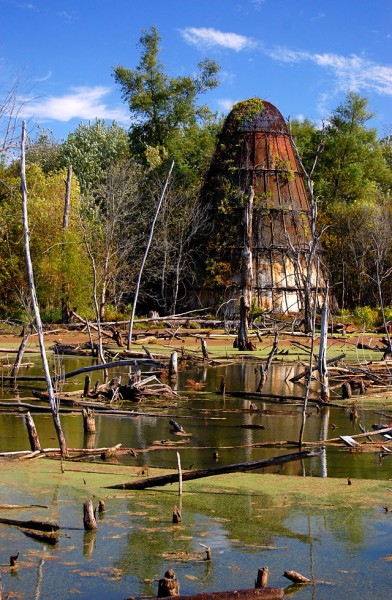 Mother and I took a cruise down to South Cape to see if Sprigg Street is open where the sinkholes closed the road near the Cape LaCroix bridge during the spring flood. (It isn't.)
A roundish, triangular-shaped structure caught my eye to the east of Giboney Street, right around where the railyards are. I thought it might have been a kiln of some kind, but a quick call to Keith Robinson, who knows everything there is to know about anything that comes close to a railroad track, came up with the answer. (Click on any photo to make it larger.)
It's a sawdust burner
The object was a sawdust burner, left over from the days when M.E. Leming Lumber occupied a good part of that stretch of the river. The river was a good thing and a bad thing for the lumber company. It provided a convenient way to ship trees and finished lumber to and from the mill, but it also meant that it was susceptible to Mississippi River floods.
"The river put us out of business," Missourian associate edtor Ray Owen quoted Howard C. Tooke, president of the company from 1956 until it closed in 1992. Tooke said in the Feb. 28, 1993, story that "In 1973, we had a major flood. Over the next three years, we had seven floods. It got to the point where we were running only about eight months a year." Ironically, the company closed before the big flood of 1993 that pretty much marked the end of Smelterville and the Red Star District.
Swamp replaced busy lumber yard

The Missourian story has an excellent photo taken during the company's heyday in 1939 showing the area covered in stacks of lumber. This aerial, taken from a Cape Air Flight this summer, shows the area today. The light green patch across from the passing barge is where the sawdust burner is located. Most of the wooded area around the green swamp was once the lumber yard.
Directly south of the Bill Emerson Memorial Bridge is the Missouri Dry Dock. The orange, cleared land to the west of it is the space that folks were speculating might become a minor league baseball field.
Leming Lumber founded in 1893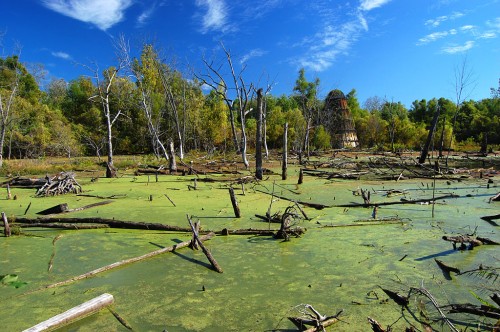 The company, founded in 1893, was one of Cape's largest employers for many years. Today, about all that's left is this sawdust burner. A peek at Google Earth shows what might be a few foundations scattered around, but I won't check those out until a trip when it's been cold enough to kill all the vegetation, cause the ground to get hard and to send the ticks, chiggers and snakes into hiding.