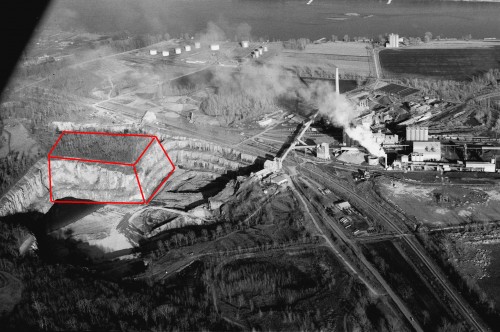 After I ran photos of the cement plant quarry yesterday, reader Keith Robinson sent me this sequence of photos of the caverns being blasted. He annotated my1966 aerial to show where the blast was centered.
You can see to the right of the "box" the narrow wall that divided the "Blue Hole" from the main quarry. Keith said family friend Burl Medlock made it possible for him to take the photos.
He said the blast used 300 tons of explosives and loosened 1.5 million tons of rock. The surface area was estimated at 6 acres and was up to 200 feet deep. Here's The Missourian's version of the blast.
Keith's photo gallery of the explosion
Click on any photo to make it larger, then use your arrow keys to move through the gallery.