I'm cleaning up some loose ends from my Midwestern meanderings. Here is the Ross County Courthouse in Chillicothe, Ohio, built back in the day when public buildings were supposed to be imposing.
I figured it would be easy to come up with the history of the building, but Google was light on information. The courthouse was built in 1858. (Click on the photos to make them larger.)
Chillicothe was the first and third capital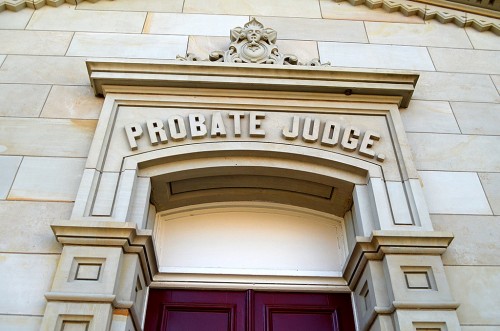 Chillicothe was a rolling stone of a state capital. It served as the capital of Ohio from the beginning of statehood in 1803 until 1810 when Zanesville became the capital for two years as part of a state legislative compromise to get a bill passed. In 1812, the legislature moved the capital back to Chillicothe. In 1816, the state legislature voted to move the capital again, to Columbus, to have it near the geographic center of the state
Part of Underground Railroad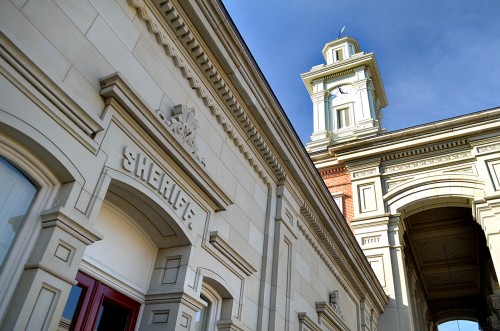 Wikipedia reports that migrants to Chillicothe included free blacks, who came to a place with fewer restrictions than in the slave states. They created a vibrant community and aided runaway slaves coming north. As tensions increased prior to the breakout of the American Civil War, the free black community and white abolitionists maintained stations and aid to support refugees on the Underground Railroad. Slaves escaping from the South traveled across the Ohio River to freedom, and then up the Scioto River to get more distance from their former homes and slave hunters.
Strange net on building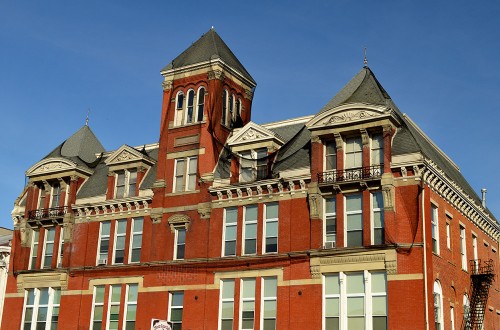 I never did figure out what the netting on the top two floors of this building was for. If it is designed to protected pedestrians from falling bricks or to keep birds away, it needs to be replaced.
The Carlisle Building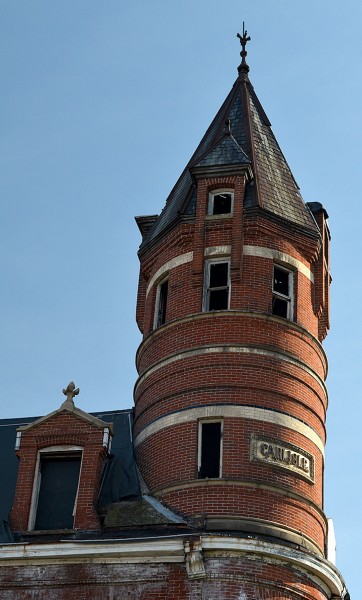 If newspaper stories are any indication, the community has been trying to figure out what to do with the Carlisle building for more than a decade, since arsonists caused major damage to it. The local paper has its archives behind a paywall, so I could only read a couple of paragraphs of each story.
The Columbus Dispatch reported on June 22, 2012, that city officials and developers announced plans to spend up to $7.5 million to rehabilitate the 1880s building and reopen its doors by mid-2014. They might pull it off, but it looks like they have a long way to go. Still, it's a neat building.
A story by Pat Medert, a local historian, said the cornerstone of the Carlisle Building was put in place in April of 1885. It contains a copy of the city ordinances, a report of the Chillicothe schools, the local newspapers, a photograph of Andrew Carlisle, a picture of the old building and a list of the tenants who occupied the old building.